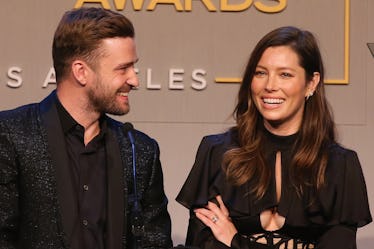 Justin Timberlake's Quotes About Jessica Biel Will Melt You Into A Puddle Of Love
Jonathan Leibson/Getty Images Entertainment/Getty Images
If there were ever a celebrity power couple who could convince us that true love was 100 percent legit, a pretty convincing argument could be made for Justin Timberlake and Jessica Biel. And while there are plenty of successful celebrity partnerships out there that make me want to say "awwwwwwww," what these two have got going on really does seem like it's in a league of its own. Seriously, Justin Timberlake's quotes about Jessica Biel really are some of the most heartfelt, romantic public declarations of love ever.
If you ask me, the best part about the dynamic between Justin and Jessica is that Justin is the furthest thing from a fool. He knows that Biel is one of the best things that has ever happened to him, and he's not shy about shouting his love from the rooftops. And as if their adoration of each other couldn't get anymore adorable, both have taken time on separate occasions to make it clear that they owe a lot of their success and happiness to the support and devotion they give to one another. So get ready for some serious feels, because here are some of the sweetest things Justin has said about his ride or die wifey.
He Feels More In Love With Her Than Ever
Today is even more special for me because five years ago, on this day, I became the luckiest man in the world when I exchanged vows with my best friend. This song was our first dance. To my beautiful @jessicabiel : You have taught me so much about what a true love means. I can't put into words what these last five years have meant to me, so... 'Listen to the melody 'cause my love is in there hiding...' #Happy5thAnniversaryWifey #ASongForYou
— Justin in an Instagram caption, celebrating his fifth anniversary with Jessica.
His Feelings For Her Are Indescribable
Baby, I love you more than I could put into words and more than any song I could ever right.
— Justin during the Memphis Music Hall of Fame 2015 induction ceremony
She Makes Him Feel Like The Luckiest Man In The World
"You make me laugh. You make me smile. You make me LOVE. You make me want to be BETTER. Speaking of, it doesn't get any BETTER than you... Now, I know for sure that it's BETTER to be lucky than good. Ask me who the luckiest guy in the world is and I will tell you that you are looking at him. Happy Birthday, my heart."
— Justin in an Instagram caption, celebrating Jessica's birthday.
She Is The Most Significant Person In His Life
She is the single-handedly most significant person in my life. In my 30 years, she is the most special person, OK? I don't want to say much more, because I have to protect things that are dear to me — for instance, her."
— Justin in a 2011 interview for Vanity Fair
She Makes Him Smile Until It Hurts
Happy Bday to the sweetest, most GORGEOUS, goofiest, most BAD-ASS chick I know. You make me smile 'til it hurts. I love you like crazy! --Your Huz"
— Justin in yet another Instagram caption, celebrating another birthday for Jessica.
He Married His Best Friend
Every once in a while I can catch a glimpse of her when she doesn't see me looking and I have this moment where I'm like if you never make a good decision... if you only make bad decisions for the rest of your life, you made one really good decision because she's just like... it's nice to marry your friend. It's nice to marry your best friend. It suits me."
— Justin gushing about Jessica Biel on "The Ellen Degeneres Show" in April 2013.
Moral of the story? We would all be so lucky to end up with someone who feels even a fraction of the way that Justin feels about Jessica. He's a lucky guy, and boy, does he know it. Wishing this adorable power couple all the best.
Check out the entire Gen Why series and other videos on Facebook and the Bustle app across Apple TV, Roku, and Amazon Fire TV.
Check out the "Best of Elite Daily" stream in the Bustle App for more stories just like this!