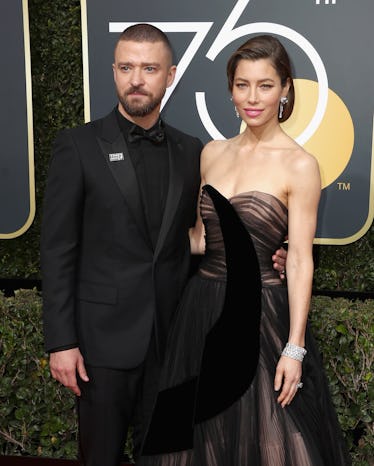 Jessica Biel Posted The Sweetest Tweet About Justin Timberlake & My Heart Can't Take It
Frederick M. Brown/Getty Images Entertainment/Getty Images
Have you guys met my parents, Jessica Biel and Justin Timberlake? Pretty sure you've heard of them. They're a Hollywood couple that remain consistently low-key about their personal life, yet somehow remind us just how perfect they are together with the little things they do for each other. In case you didn't know, Justin Timberlake has kicked off his Man of the Woods Tour, and of course, our girl Jessica Biel has joined him. If that's not sweet enough for you, maybe seeing Jessica Biel's tweet about Justin Timberlake will send you over the edge of cuteness, because oh man, will it make you feel things.
Have you ever been to a concert and scored ridiculously amazing seats? You have? Great. Now picture the singer walking toward you, so close that you could see the stubble of his beard. Got it? Good. Now picture that singer is your husband, a world-renowned singer and pop star. Oh, and you're Jessica Biel. Life's pretty good right?
Snap out of it, that was all hypothetical for you (but not for Jessica).
Biel took to Twitter to post a video of her rocking out at her husband's concert, and it's actually amazing. But what's even more incredible is what she says about her man, JT:
There's nothing better than watching your man do what they've been put on this earth to do. I'm so proud of you, man of the woods! #MOTWTOUR
Don't mind me, just desperately wishing I was Jessica Biel right now. Or Justin Timberlake. Honestly, I'm fine with being either.
This isn't the first time that Biel has shown her love and support for Timberlake: She was there for him back in February as he readied himself to perform the Super Bowl LII, and just days before his performance, Biel posted an adorable photo on Instagram and wished Timberlake the happiest of birthdays. She wrote that he's "a super hot dad," and that she's "so proud of all [he's] accomplished," and ended by telling him to "go crush it" at the Super Bowl LII.
BRB, swooning.
Don't worry, it's pretty clear that Justin feels the exact same way about his wife. Back in March of 2017, he took to Instagram to wish her a happy birthday, and I seriously don't understand how a man can be so talented, good-looking, AND heartfelt. He wrote:
You make me laugh. You make me smile. You make me LOVE. You make me want to be BETTER. Speaking of, it doesn't get any BETTER than you... Now, I know for sure that it's BETTER to be lucky than good. Ask me who the luckiest guy in the world is and I will tell you that you are looking at him. Happy Birthday, my heart.
Hello, relationship goals.
At this point, you're probably like, "Hey, can you stop with the cuteness before I melt into a puddle?" Sorry, but NOPE.
Did you really think that I was going to finish this post before talking about their son, Silas? C'mon, people.
In an interview with Today back in October of 2016, Justin Timberlake got candid about parenting and how it "changes everything":
They teach you ... It's crazy. ... Watching him learn things, this new appreciation for both of them — you know, her and him — and so it's humiliating, and it's humbling at the same time.
Jessica Biel shared her thoughts on being a parent as well back in July of 2017, pointing out that having a child makes it clear that "your schedule is really not your own" anymore:
You think you're a selfless person, and then you realize you're not ... These little people come around, and they require so much, and your schedule is really not your own … and it's very clear that it's your life now revolving around this dude.
So not only are Jessica Biel and Justin Timberlake the cutest couple in history, they're also the coolest parents. Some people seriously have all the luck and it's not fair to the rest of us.
It's OK, you guys. I love you both regardless.