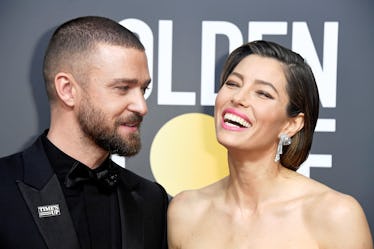 Jessica Biel Is At The Super Bowl To Support Justin Timberlake & It's So, So Cute
Frazer Harrison/Getty Images Entertainment/Getty Images
Jessica Biel and Justin Timberlake's relationship is undeniably adorable. I do love J.T. and his music, and Biel seems like a sweetheart all her own, but there's something especially magical about them whenever you see the two in a picture together. So of course, as Timberlake prepares for his Super Bowl halftime performance, fans are wondering if Jessica Biel is at the Super Bowl to cheer on her talented hubby.
After all, Biel has called herself Timberlake's "OG fan girl #1," so of course she was right there with him on the field supporting the Man Of The Woods singer just hours before his big performance.
Fans on Twitter shared these ridiculously adorable pics of Biel and Timberlake kneeling together on the U.S. Bank Stadium in the chilly city of Minneapolis just minutes before the official Super Bowl kickoff. In case you were skeptical about whether Biel would actually show up for the whole game, let alone J.T.'s halftime performance, we know for sure now just how much she supports him on this big night.
Fans are absolutely swooning over seeing the two together out on the field, especially with their adorable son Silas.
Biel also shared a picture of her indulging in some game day treats.
In case you weren't aware until now about how freaking cute this couple is, prepare to melt a little. Earlier this week, it was Timberlake's 37th birthday, and Biel took to Instagram to wish her husband a happy birthday with the absolute sweetest post:
The 35-year-old actress wrote,
Here's to a spectacular year ahead. I'm so proud of all you've accomplished and all that is ahead for you.
Biel went on to call J.T. a "super hot dad," and a "ninja dad." She continued,
...kiddie teeth brushing, Jedi sleep mind tricking, intimidating dad voice disciplining SUPER HOT DAD. I love you, you hot dad.. I'm here, right by your side, OG fan girl #1. Happy birthday, my beloved. Now go crush it this weekend at SB LII.
*Heart flutters.*
Justin Timberlake and Jessica Biel are obviously super supportive of one another in everything they do, and that definitely seems to draw fans into their relationship even more.
Like I said, there's an undeniable connection between Biel and Timberlake, and you can sense it any time you see the two of them together. That's exactly why I'm so happy J.T. decided to feature his wife so much throughout his newest album Man Of the Woods. I'm just saying, if you haven't listened to "Hers" yet, the spoken-word interlude on Timberlake's new album, you're missing out. It's a super sweet, super personal track, and Biel's words are sure to give you a few goosebumps. She says in the song,
When I wear his shirt, it feels like, like his skin over mine. And the little holes and tears and shreds on it are, are, are the, the memories of the past that I wasn't there for, but, that somehow I, I, I feel like I understand more when it's against my skin. It's an armor, like a barrier from the world. Like, our secret nobody else knows and I like that, you know? It makes me feel like a woman, it makes me feel sexy, it makes me feel...it makes me feel like I'm his
(I'm his, I'm his, I'm his, I'm his, I'm his)
It's hard not to smile when you see the couple dancing together.
There's also J.T.'s song "Montana," another personal track on the Man Of The Woods album that fans are totally in love with.
The lyrics really are so romantic. The first verse goes,
Everything is heightened, we're feelin' vulnerable, I'm makin' you this vow, uh, that you can have it all, take whatever you want, take whatever you want
And the refrain low-key gives me chills:
Don't wanna leave, girl, without you, and I can't sleep, no, I wouldn't know how to, when I need a compass, yeah, yeah, you're the one that I come get, and you tell me go wherever you want, go wherever you wanna
*Swoons.*