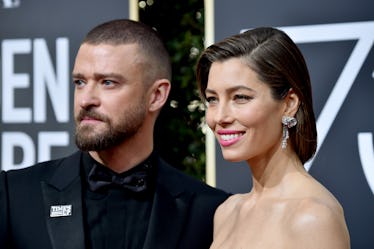 Justin Timberlake & Jessica Biel's Son Is At The Super Bowl & It's So Adorable
Frazer Harrison/Getty Images Entertainment/Getty Images
Guys, the only thing cuter than Justin Timberlake and Jessica Biel's marriage is their freaking adorable son, Silas. Luckily, he made a special appearance before the big game, and these photos of Silas Timberlake at the Super Bowl will fill your heart with so much joy. The 2-year-old Timberlake was first spotted running around the field on Saturday, Feb. 3, wearing black overalls and an orange beanie. Of course, the photos of Silas also feature his famous mom and dad (you know who they are). How cute are they?
So, you might be wondering why Silas Timberlake and his celebrity folks are even at Super Bowl LII. The answer is plain and simple: Timberlake is performing during the halftime show, and his family is there to support him. The "Suit & Tie" singer is expected to perform hit songs from his new album, Man of the Woods. If you haven't given it a listen yet, you absolutely should. Not only will you thoroughly enjoy it, but you'll also be able to sing along during the show. There's been no word about the exact songs he'll be performing, but I'd be thrilled with a few *NSYNC throwbacks, just saying.
Regardless of what Timberlake performs, I'm sure his little guy will love watching it. The fact that Silas was even in the U.S. Bank Stadium in Minneapolis prior to the game proves he looks up to his famous father, and it's so adorable to see how tight the Timberlake family is. I mean, look at these photos! The one with Justin and Silas holding hands is making my heart melt.
Of course, Silas wasn't the only family member at the Super Bowl stadium showing support. Justin's wife, Jessica Biel, was also in the photos with her hubby and son. They're making the Super Bowl a family affair, and TBH, I'm kind of jealous I wasn't invited. In the photos above, Biel is shown holding Silas on her lap, and kneeling with Justin on the field turf. Again, I'm swooning over this family support.
If you haven't gotten enough cuteness out of this famous family, prepare yourself — because there's more. As you may or may not know, Timberlake released a new album on Feb. 2 called Man of the Woods (again, go listen to it!). Believe it or not, Timberlake features his son's voice in one of the songs on the album. I KNOW, MY HEART IS SO FULL. The song is called "Young Man," and Silas can be heard at the end of the track saying "I love you, Daddy." Yup. Just when you think Timberlake's music couldn't get any better, he throws us for an emotional loop and features his son.
Aside from the "cute" factor of the cameo, there's also a connection between Silas' name and the name of Timberlake's new album. Get ready to have your mind blown, because the name Silas means "of the forest," and the name of Timberlake's new album is Man of the Woods. It all makes sense now, right?
Now that you've seen photos of the Timberlake gang in the Super Bowl stadium, you're probably super excited to see Justin live during the halftime show. I wonder if Silas will make an appearance during his set... because that would make the show extra memorable.
Either way, I'm sure he'll nail the performance, as per usual. This will be the first time Timberlake has made an appearance at the Super Bowl since Janet Jackson's "wardrobe malfunction" in 2004. Jackson will not be performing during the halftime show this year, but Twitter definitely hasn't forgotten about her. In fact, #JanetJacksonAppreciationDay is trending on Twitter right now — so while you swoon over the Timberlake family, take a moment and reminisce on the past.