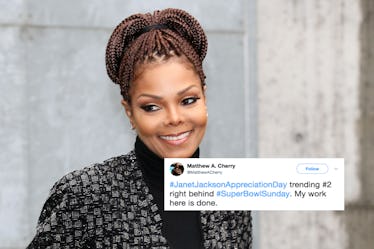 Fans Are Calling The Super Bowl "Janet Jackson Appreciation Day," Because Justin Timberlake Who?
Vittorio Zunino Celotto/Getty Images Entertainment/Getty Images
As we all await Justin Timberlake's halftime show at Super Bowl LII, it's natural to think about the past. You know the past I'm talking about: Justin Timberlake and Janet Jackson's previous Super Bowl halftime show in 2004. And as we lead up to Timberlake's halftime part two, people on Twitter couldn't help but poke a little fun at him about the last time he was on the Super Bowl stage. Apparently, nothing will top his 2004 performance with Janet Jackson... like, ever, and the tweets about Janet Jackson Appreciation Day prove that.
Although Janet Jackson is nowhere near the Super Bowl or performance stage on Sunday, Feb. 4, people couldn't help but take to Twitter to share a bunch of past memories of the ever-legendary Janet Jackson in all her glory. Seriously, the Super Bowl what? Justin Timberlake who? All anyone knows today is a living legend named Janet Jackson and her incredible music and style. WHAT A FREAKING INSPIRATION, AM I RIGHT?
#JanetJacksonAppreciationDay quickly started trending on Twitter, prompting everyone to forget about a glorified game of catch and, instead, remember their favorite songs, albums, and moments from a literal queen.
When Timberlake was first announced as the 2018 Super Bowl halftime performer, people were pissed. People saw it as a gender double standard that Timberlake was invited back with open arms to perform at the Super Bowl after "Nipplegate," while Jackson was "banned."
This idea was only further perpetuated when Timberlake said that his last performance didn't really come up as a topic of conversation before he officially signed on as the halftime performer. As reported by CNN, he told Beats 1's Zane Lowe,
To be honest, [there] wasn't too much of a conversation, just one of those things where we go, 'We're not gonna ...' What do you want me to say, like, 'We're not gonna do that again?'
Timberlake added that he "stumbled through" his first halftime performance. The singer continued,
You know, to be quite honest, I had my wires crossed. And it's something that you have to look back on and go, like, 'OK, well, you know, you can't change what's happened, but, you know, you can move forward and learn from it.'
He's definitely a pro at this stage in his career. The NFL did make a statement to TMZ, saying "there's no ban" in order to squash that headline. The spokesperson added,
We are not going to comment on any speculation regarding potential guests. There may be no guests. Along with Pepsi, we're excited to have Justin Timberlake.
Of course, not commenting raised even bigger suspicions that a mega-surprise guest would be joining Timberlake on stage. Fans had their hopes up that Jackson would make a mighty return to the Super Bowl stage. She and Timberlake would make their redemption performance, everyone would clap, and we would talk about it forever. The end. Unfortunately, it's likely that isn't happening.
It was actually unlikely from the beginning that Jackson would join Timberlake, according to Joey Fatone. Timberlake's former N*SYNC bandmate and professional tea spiller told TMZ that it wasn't going to happen. He said,
He's not that kind of person — he's not controversial. He is in a sense, but not in the sense that he'd do it deliberately.
Then, just days before the Super Bowl, on Feb. 3, Jackson tweeted to confirm that she wouldn't be joining Timberlake this time around.
While the audience may find that controversial, there seems to be no bad blood between Timberlake and Jackson. Timberlake told Zane Lowe that he and Jackson resolved any and all potential issues that may have come up between them after their Super Bowl performance. The singer said,
Yeah, and I don't know that a lot of people know that. I mean, I don't think it's my job to do that, because you value the relationships that you do have with people.
Although Janet Jackson won't make an appearance at this year's Super Bowl, I'm sure she's cheering Justin Timberlake on from the comfort of her own home. Until next time, Janet.