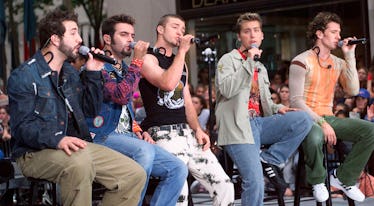 Joey Fatone Reveals If *NSYNC Will Perform With Justin Timberlake At The Super Bowl
Evan Agostini/ImageDirect
Apparently, Justin Timberlake will not be reviving his boy band past during his upcoming Super Bowl halftime show. Fans tuning into JT's big performance on Sunday, Feb. 4 hoping to get an *NSYNC reunion and hear some of his early hits like "Bye Bye Bye" and "It's Gonna Be Me" have a major letdown coming their way: Joey Fatone just confirmed there will be no *NSYNC reunion at the Super Bowl this year. Yep, I know — it's tearin' up my heart, too.
Rumors of a possible *NSYNC reunion began swirling right after the NFL announced Justin Timberlake would be the Super Bowl halftime show performer for 2018. The Super Bowl is a prime spot for breakout solo artists to reunite with their popular former groups — remember when Beyoncé brought the other members of Destiny's Child to the stage at the 2013 Super Bowl? To add fuel to the reunion rumor flame, Joey Fatone teased that an *NSYNC reunion was a definite possibility after Timberlake was announced as the halftime show performer, saying that they would be up for it if that was the plan. Plus, Timberlake had just staged a surprise reunion with *NSYNC a few years earlier, when he brought the other four members of his former boy band on stage at the VMAs in 2013.
Everything seemed to be leading up to a nostalgia-filled *NSYNC revival at the Super Bowl, but now Joey Fatone is dashing the hopes of boy band fans everywhere. Fatone confirmed to TMZ that the reunion is for sure not going to happen:
I'm here [at dinner] right now. If I was doing something I'd be in rehearsals right now, so obviously there's your proof. Nothing. And there's nothing wrong with that, he's doing his thing.
That means none of the *NSYNC guys have been rehearsing with Justin Timberlake for the halftime show, which means no reunion. Of course, JT has more than enough songs of his own to fill the 15ish-minute time slot, but for a bunch of his fans, his time with *NSYNC will always be their favorite version of Timberlake.
Joey Fatone also addressed the other collaboration speculation that everyone has been wondering about since Justin Timberlake was announced as the halftime performer: will Janet Jackson appear on stage with him? In the most infamous moment in Super Bowl halftime history, Timberlake performed his song "Rock Your Body" with Jackson at the 2004 Super Bowl, and ended the performance by ripping off a piece of her costume, exposing her breast.
The incident erupted a national outrage, which exposed the puritanical values of the American public at the time and led to Jackson being blacklisted from various television and radio stations, disinvited from the Grammys, and tanked the sales of her album Damita Jo. Meanwhile, Timberlake's career remained unaffected by the controversy, and in fact he rose to even more public acclaim afterwards.
When Justin Timberlake was revealed to be this year's Super Bowl performer, many of Janet Jackson's fans were upset. There was also a lot of speculation on whether or not Timberlake would invite Janet to reunite with him on the Super Bowl stage, to set things right this time. But according to his former bandmate Joey Fatone, it sounds like Timberlake is not planning on reuniting with Jackson, since it would be seen as controversial:
He's not that kind of person — he's not controversial. He is in a sense, but not in the sense that he'd do it deliberately.
Hmm, so is JT just going to perform solo the whole time? Although these Super Bowl halftime shows usual do involve some surprise guests coming out, there have also been years when the artist does the show all on their own — Lady Gaga last year, for example.
Super Bowl LII will take place on Sunday, Feb. 4.