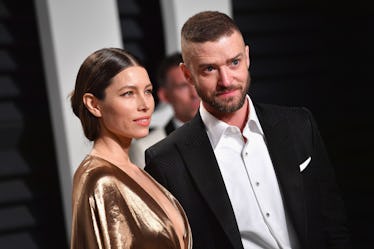 Here Is Your Official Timeline Of Justin Timberlake & Jessica Biel's Relationship
Pascal Le Segretain/Getty Images Entertainment/Getty Images
Justin Timberlake makes a much-anticipated return to the Super Bowl halftime slot on Feb. 4, likely trying to rectify the reputation he gained thanks to his risque 2004 Super Bowl performance with Janet Jackson. Following that incident, we probably wouldn't have guessed that Timberlake would shoot to the multi-talented superstar status he's at now. In addition to his career high, he's been together with wife Jessica Biel for ages, and the low-key couple is a great example of a new generation of Hollywood's most solid couples.
Best known for her role in family-friendly drama 7th Heaven, Biel has had small parts every now and then, but she was recently in the spotlight for her Golden Globe-nominated role in the miniseries The Sinner. Her subtle presence seems to complement Timberlake's effervescent personality, but the two are fairly quiet about each other on social media. That being said, it's easy to feel like their love story is a mystery. Cue the internet sleuthing!
Obviously, although their relationship is basically decades-old in Hollywood years, both had relatively famous significant others before meeting each other.
Your big sister probably still mourns the loss of Timberlake's relationship with Britney Spears, who he dated from 1999 to 2002. The childhood friends had a strong effect on each other, and according to Timberlake's BFF Jimmy Fallon, the singer still talks about her sometimes, but Fallon seems to have believed that they never would've lasted. Later on, Timberlake dated Cameron Diaz for over three years.
Biel is no stranger to famous exes either. She dated Chris Evans on-and-off for five years, long before his Captain America days. Man, does she have great taste in guys or what? For reference, both she and Timberlake were in their late teens and early twenties during these relationships, almost equivalent to being college sweethearts.
Biel and Timberlake went public with their relationship in 2007, and their bond was notable from the start. They first met at the 2007 Golden Globes, and Beverley Mitchell, Biel's onscreen sister on 7th Heaven, was there for the life-changing introductions:
I was there like the moment the love connection happened. I was like, 'OK, this is happening.' It was so cute because they were like — it's that moment like, 'I like you, I think you like me.' It was very, very sweet. They were definitely flirting.
Biel also felt a major sense of destiny when she met Timberlake, telling James Corden last year about the prophetic email she sent someone soon after:
It's literally, like, 'OK, I can't make that meeting so I have to cancel, also I know I will marry this man, you can't tell anybody but your husband.' I have no idea why I wrote that email. I don't know what he did that day, but I have this hilarious email.
In a sweet, old-fashioned move, the two relied on their phone conversations at the start of their relationship because Timberlake was away touring. Um, is this a celebrity love story or a beautiful teen romance set in the 1960s? Timberlake even revealed in 2012 that he reached out to Biel after their first meeting over the phone:
That's something I learned from both my stepdad and my grandfather — that there is a thing called chivalry and it doesn't have to die with the birth of the internet. The way I see it, if you're asking a girl out on a date, it's only right to do it in a way that she can hear your voice. I had to be pretty persistent in order to get her to say yes. But I have a fair amount of tenacity and if I want something I stick to it. And in the end she agreed.
*Heart eyes.*
When the couple split in early 2011, reports of a rocky romance emerged, as well as a source's claim that Biel wasn't ready to get married. In a Vanity Fair profile that summer, Timberlake hinted that he definitely wasn't over the breakup:
She is the single-handedly most significant person in my life. In my 30 years, she is the most special person, OK? I don't want to say much more, because I have to protect things that are dear to me — for instance, her.
What happened in the next few months must have been incredibly romantic and fast-paced, as the two were back together by October and announced their engagement in December. Their Italian countryside wedding on Oct. 19, 2012, was captured in a photo spread that showcased Timberlake's goofy side and Biel's cute personality. If you ever need to convince people that you could work a pink wedding dress, show them these photos:
In January 2015, Timberlake confirmed the pregnancy rumors surrounding them with the cutest baby announcement ever:
The couple's son, Silas, was born in April 2015, and he's now occasionally seen on Timberlake's Instagram.
The latest #goals moment of these two came in October 2017 on their fifth wedding anniversary. Timberlake posted an Instagram video of himself singing the pair's first dance song.
Alongside the video, Timberlake wrote:
To my beautiful @jessicabiel : You have taught me so much about what a true love means. I can't put into words what these last five years have meant to me.
I mean, I'm ready to go cry into a pint of ice cream right now.
I definitely expect to see a glimpse of Biel at the Super Bowl while Timberlake performs. They're a true example of a perfectly balanced, supportive celebrity marriage, and they just won my eternal shipping love.