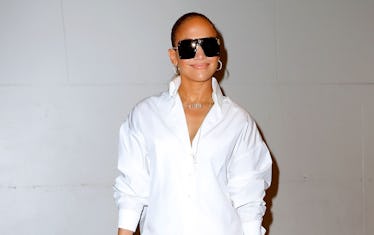 Jennifer Lopez Forgot To Wear Pants, Or Wore Them As Shoes, & I'm Confused
Mike Reed/ACE Pictures/Shutterstock
Sometimes I question whether or not Jennifer Lopez is human. She's downright gorgeous and is always dressed to the nines with trend-setting outfits. How does she do it? One of her latest looks has people talking a little bit more than usual, though. Jennifer Lopez's denim boots have taken the place of the star's pants, and I'm not sure how I feel about it.
I'm all for pushing boundaries and experimenting with new ideas when it comes to fashion, and I admire Lopez for doing just that. Within only the past few months, Lopez rocked a floor-length braid, wore a velour crocodile bra, and (my personal favorite), Lopez got a manicure with real money. Yup, Jenny from the block cut up a real $100 bill to use as nail art. I was shook. But now, I'm almost as shocked by Lopez's more recent daring fashion choice.
Lopez was spotted out on the streets of New York on her way to a Music Choice event where she discussed how she's soon going to receive the MTV VMAs Video Vanguard Award (tune into MTV on Aug. 20 for that). Maybe she also deserves a fashion vanguard award, though? Check out her daring look!
Lopez wore a white Poiret shirtdress, Chanel Shield Sunglasses ($1,150; chanel.com), lots of diamond jewelry, much of which is Le Vian jewelry, she carried an Hermes Crocodile Birkin Bag ($30,000; therealreal.com), but the craziest part is her boots.
In lieu of pants, Lopez wore pant-inspired shoes. The over-the-knee denim boots are from Versace's Resort 2019 collection where you can see they also come in a darker wash denim version. The statement boots are not yet available to the public, but obviously Lopez was able to get her hands on a pair. The boots are remarkably reminiscent of a pair of actual jeans – they have belt loops and each boot even has it's own mini belt!
Twitter had a few things to say about the boots.
One clever user coined the term "joots" (jeans + boots).
"I swore I thought her pants fell off," wrote on social media user. Multiple people actually thought J.Lo had an unfortunately fashion mishap.
"I literally thought her pants fell down," tweeted another at first confused onlooker. It was a bit confusing, I'll give you that.
A usually supportive fan couldn't get on board with the look: "J.Lo['s] Versace boots look like she forgot to pull up her pants after going to the restroom... mama u are a fashion icon.. but this... this is a sin!" Sin might be a bit strong but it is an unusual outfit.
Maybe they're just really low-rise jeans?
Many liked the singer's look, though!
"You all need to get your eye's checked, I [knew] they were boots and Jennifer is wearing a shirt dress, I tink she looks good, you go Miss J.Lo," defended one of the star's fans.
"Only J.Lo can have her pants fall down and magically turn into denim Versace boots! #stylingandprofiling," wrote one supportive fan.
"To everyone upset about these boots: She's a fashion leader, not a fashion follower," tweeted one truth-speaker.
TBH, I'm convinced that it's cool, and to all of the outfit haters out there:
Deal with it.