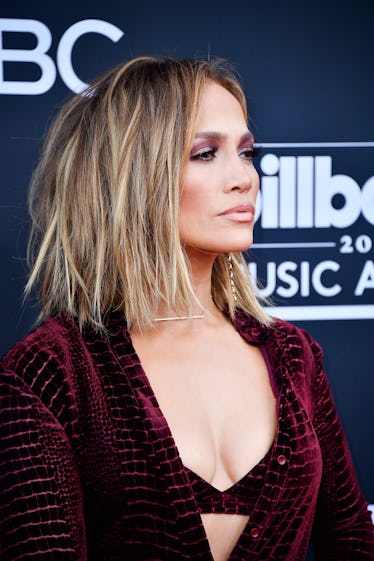 Jennifer Lopez Wore Real $100 Bills As Nail Art & I've Never Felt More Broke
Frazer Harrison/Getty Images Entertainment/Getty Images
Jennifer Lopez professes she'll always be "Jenny From The Block," but her recent beauty look says something different. J.Lo's latest single is called "Dinero" and the singer is taking the title literally. For the Billboard Music Awards, Jennifer Lopez's manicure used real $100 bills as nail art. So whatever Lopez paid for the actual manicure, add at least another $100 to that.
Forget monopoly money, when you're an award-winning singer, dancer, TV personality, beauty entrepreneur, and all around boss b*itch, you can literally afford to sacrifice money for the sake of your #lewk. And that's exactly what J.Lo did. At the 2018 Billboard Music Awards, Lopez showed up on the red carpet wearing a maroon Roberto Cavalli ensemble (which included a velour, crocodile-embossed bra) and over-the-knee Casadei boots. The most remarkable part of the look, however, wasn't even noticeable at first glance.
Lopez finished her fire look by carrying a Devi Kroell clutch, which enabled her to show off her gold and diamond-studded rings from Yeprem Jewelry and AS29. J.Lo's look clearly didn't come cheap, and yet, I haven't even gotten to the money shot. At the ends of those jewel-laden fingers was the most epic nail art the world has ever seen.
Red and green are complimentary colors, so it was smart of Lopez to get a green manicure to enhance her maroon outfit. It really makes that dark red hue pop. On second thought, that's not just any old green manicure, now, is it? It's got some sort of pattern to it.
Nope, definitely not a regular ole manicure. J.Lo looks to have literal money painted onto her nails. You know, dinero, like her song. Is it real? The woman is richer than I'll probably ever be, so it's plausible. But on the other hand (no pun intended), nail artists are off the charts talented at creating elaborate designs and someone could've just painted Lopez's nails to look like real money.
Celebrity manicurist Tom Bachik took to Instagram to show off his work: "Yo Quiero #Dinero 💰 About last night @jlo #nailsbytombachik 💅🏻." Wow, Bachik really dedicated himself to that realistic look. It almost looks like they cut up real money...
Bachik was nice enough to post another photo of the nails before he applied them onto J.Lo's famous fingers. "It's All About the #Dinero 💰 💅🏻 for our girl @jlo @bbmas #nailsbytombachik #jlonails #bbmas the #real deal #hundo $100 #notadecal #benjamin," wrote Bachik.
Hold the phone. #notadecal? Those aren't decals! THAT'S REAL MONEY!
Oh. My. God.
Except not dollar bills, hundred dollar bills, y'all.
Footage of J.Lo getting her nails done, basically.
Twitter was here for J.Lo's expensive nail art:
"To paraphrase my favorite @jlo song, "They're real,'" I'm real, she's real, they're real.
"Money on the nails 💰 💚 @JLo #DINERO," that green heart emoji has never looked so good.
"WTF!? @jlo for real has $100 on her nails tonight @TomBachik This might not be legal.... just saying 🤑." It's her money, she can cut it up if she wants to.
"Nails @JLo #DINERO her hands are even flawless 💰 💚 💍 ✨." Usually, I only call Beyoncé flawless, but this is pretty d*mn close.
That pretty much sums it up.
I wince when I have to pay more than $20 for a manicure, (not including tip, you should always tip the nail technician), so the thought of actually taking scissors to my hard-earned money is making me nauseous. J.Lo works hard for her money, though, so more power to her for having the chutzpah to tear it up and show it off like she did.