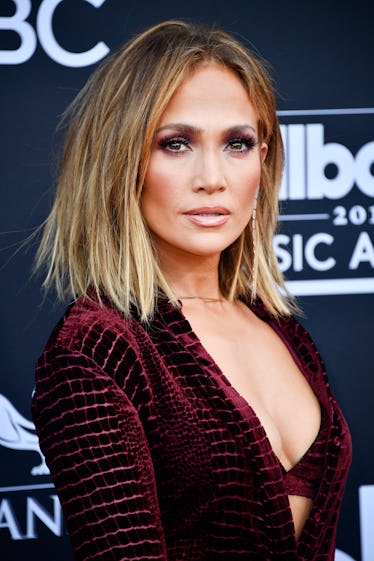 Don't Be Fooled, J.Lo's Billboard Music Awards Look Proves She's Still Jenny From The Block
Frazer Harrison/Getty Images Entertainment/Getty Images
When it comes to music awards shows, there's one artist that consistently steals the red carpet spotlight, thanks to outfits that effortlessly straddle the line between ultra sexy and ultra glamorous. Jennifer Lopez's 2018 Billboard Music Awards look, which is such a classic, old school J. Lo look, is one such outfit. I mean, J. Lo always manages to stun, but this year's BBMA outfit is signaling to me that she's still Jenny from the Block. (Only, uh, probably with even more rocks than when she sang it the first time.)
Dressed head to toe in burgundy, Lopez's look hit all the right notes on the scale — literally. Both the bodice of her look, designed by Roberto Cavalli, and the skirt featured deep red faux alligator scales. The top of her look, however, played up the drama with a two-piece, velvet set, featuring a burgundy bra underneath a long-sleeve, button-up top. To complete the look, she stunned in sky-high Casadei shoes, which were burgundy, thigh-high leather boots.
When J. Lo announced that she'd be performing at the awards show earlier this month, my high school (and modern day, honestly) self let out a yelp of joy. J. Lo's album, This Is Me... Then, was the first album I ever bought with my own money (read: allowance) so the singer holds a special place in my heart. What's more, earlier this month at the Billboard Latin Music Awards she performed the live debut of her new song, "El Anillo," and the show was nothing short of perfection. Her singing, her dancing — it was flawless as usual. But it was almost outdone by the outfit she wore while doing it.
J. Lo took to the stage in a glittery catsuit dripping in sparkling jewels, while an equally twinkly headpiece draped over her slicked-back hair. A ponytail that nearly grazed the ground fell down her back, finishing off the look with an added touch of drama. So. Good.
It's not the first time J. Lo has stunned at an awards show, though. Last year, she rocked not one, but two gowns at the 2017 Billboard Latin Music Awards, both of which were total knockouts. She won both the Social Artist award and Star Award that year, so one dress per win, right? The first, a black, long-sleeve gown by Julien MacDonald, featured so many minuscule cutouts that the dress had a net-like appearance. Glittery, intricate, ornate, and J. Lo to a T, it was certainly a showstopper.
The second dress, which was by the same designer, was equally as head-turning. Silver rather than black, it also featured uncountable cutouts and detailed beading. J. Lo looked every part the musical icon she is in both looks.
Knowing her penchant for daring looks, I couldn't wait to see what she'd wear to the 2018 BBMAs award show. Again, it did not disappoint. Just take a look at this one more time and gawk with me:
For one, it totally reminded me of old school J. Lo. I'm talking later-'90s to early aughts J. Lo, aka the best era of J. Lo there ever was, in my humble opinion. (I was absolutely obsessed with her when I was in middle school.) The head-to-toe oxblood hue of the look is a throwback trend on its own, but when cut from (hopefully) faux alligator skin and velveteen textiles, it takes on an even more retro appearance. And what would a J. Lo red carpet moment be without the singer showing some skin in the most tasteful and fashion-forward way? Thanks to her matching velvet bra, which peeks out from under the button up, and thigh-high skirt slip, Lopez's look is all kinds of fiery.
The singer's blunt, modern lob helps ground the look in the 21st century, while diamond earrings drip from her ears and diamond rings stud her fingers. I'd put money on a bet that her makeup look, in all its minimal, neutral (yet still matching in burgundy) glory, was executed with J. Lo's new Inglot makeup collection. She looks absolutely amazing. I see you, Jenny from the Block.