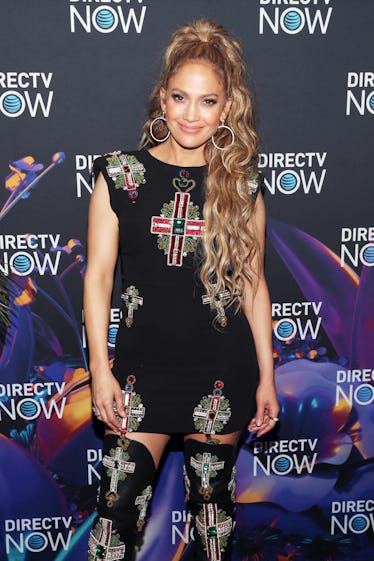 Cardi B. Revealed J.Lo's Makeup Collection In The Most Cardi B. Way & You Have To See It
Christopher Polk/Getty Images Entertainment/Getty Images
Ever since news broke that Jennifer Lopez was releasing a beauty line in collaboration with Inglot, one main question has been looming over fans' heads: What's in J.Lo's beauty collection, exactly? And yesterday, the goddess that is Cardi B has come to the rescue to answer that exact query, having received a gift in the form of the entire new line and posted photos of it to social media. The stars have collided, literally.
Makeup artist Scott Barnes first teased the collection back in March via Instagram, when he revealed he'd used one of the upcoming bronzers on J.Lo to achieve her beauty look. Of course, fans freaked out, but they weren't given any more information until earlier this month. On April 4th, Inglot officially announced the collaboration on their Instagram account, revealing that it would be released on the 26th., although, to the delight of many, they've already released a few first look products for US-based customers. And now, despite the fact that six days remain before the collection will officially hit shelves, the full range of products it contains has become common knowledge. While Inglot has been teasing certain products for a few weeks (they posted about the collection's coverup and highlight duo, a customizable palette, and a red lipstick, among other things), the collection in full hadn't been revealed.
Not, that is, until yesterday, when Cardi B posted a video to Instagram that showed her opening up a special delivery from J.Lo containing the makeup collection in full. ,"Thank you @jlo," the caption read. ️Cardi first opens up what looks like a rose gold briefcase to reveal a suitcase sized cavity filled with products. The video zooms in on one specific compartment of the giant caboodle, which has been customized with Cardi's name, and you can hear the rapper excitedly saying, "I got this gift from J.Lo. Can ya'll believe that I'm getting a gift from J.Lo?" Yes, we can, and we are insanely jealous.
As she begins going through the collection, lipsticks, bronzer, and highlighter become visible, packaged in sleek black boxes. Then, the video pans to three different palettes, each filled with four eyeshadow shades and a blush and bronzer set. The shadow shades range from charcoal black to burnt orange to light nude, while the blushes range from dusty rose to bubblegum pink. Cardi swipes one of her bedazzled fingers over a shadow and tells the camera, "Look at this palette, that shit potent than a motherf*cka!" I've got to say, there's no one else I'd rather get a makeup collection preview from than Cardi B, she is hilarious.
Next up is some nail enamel, which is quite a unique asset for a celebrity beauty line, and the panning-over of some other unidentified products. Last but certainly not least is a pair of fake eyelashes, which Cardi freaks out about. "Ooh we got lashes, America! We got lashes!" you can hear her squealing as a pair of long, feathery lashes come into view.
The collection is honestly super impressive and looks pretty all-encompassing. While we'll have to wait sic more days until official reviews are out to hear about the quality of the makeup, if its anything like the presentation of the collection as a whole, it's going to be top notch. No price points have been revealed yet, either, but I'm hoping that J.Lo made it so that all of her fans will be able to access her offerings without having to sell an arm and a leg. Seeing as the entire world is obsessed with her (or at least everyone I know), I'm fairly certain there will be quite the rush to get get her products in attempt to achieve that famous glow of hers.