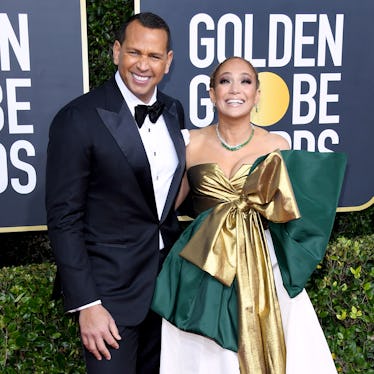 J. Lo & A-Rod's Relationship History Is So Hard To Look At Now
Daniele Venturelli/WireImage/Getty Images
On the off chance that you were not already convinced they were destined for each other, Jennifer Lopez and Alex Rodriguez's relationship history serves as cold, hard proof. I mean, to be totally honest, I don't even believe in soulmates. But their relationship history was so adorable, it almost felt meant to be — that is, until Page Six and TMZ reported their breakup on March 12. The following day, J.Lo and A-Rod released a statement to CNN, TMZ, and People to clarify that they're "working through some things" and are still together.
But on April 15, Lopez and Rodriguez announced their split in a joint statement issued to TODAY. This split comes after the pandemic pushed the couple to postpone their nuptials twice and a cheating scandal arose in which Southern Charm star Madison LeCroy alleged she FaceTimed the athlete.
Lopez and Rodriguez's power couple story dates back decades. See, Rodriguez had a crush on Lopez back in the early '90s when he was just starting out his baseball career and she was a full-blown pop star. Then, in 2005, they finally met when Lopez's then-husband Marc Anthony was throwing the first pitch at a Yankees versus Mets game. A full twelve years later, they went on their first date. They got engaged in 2019 and reportedly considered buying the Mets.
Here's everything else that happened in between:
This article was originally published on