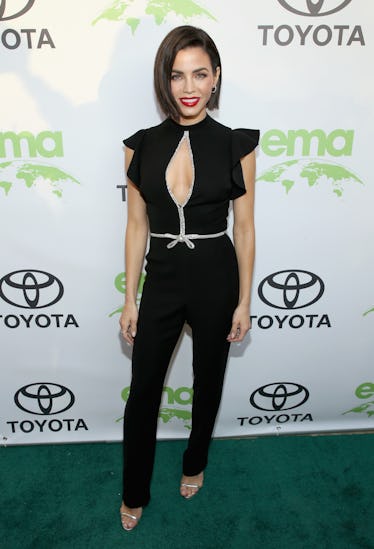 Jenna Dewan's Hotel Workout Is Quick & Effective, So Here's How To Recreate It At Home
Phillip Faraone/Getty Images Entertainment/Getty Images
Jenna Dewan has been my number one girl crush ever since her big screen debut in 2006 as Nora Clark in the dance film Step Up. Aside from the obvious fact that the 37-year-old performer is just naturally gorgeous, fun-loving, and hella talented, I'm personally blown away by her level of motivation to work out off the dance floor. I mean, Jenna Dewan's hotel workout, for example, is simple enough to recreate in the comfort of your own living room during the commercial breaks of your favorite show — but how does this woman have the energy, let alone the drive, to keep her body moving? Between being a now-single mama taking care of her 5-year-old daughter, Everly, shooting videos for her YouTube channel, and, you know, dancing for a living, I can't help but wonder how Dewan has the time to breathe, let alone smash out a dynamic workout on top of it all.
And, just to clarify, unless you're a pro athlete, dancer, or involved in any other sort of profession that requires you to keep up a certain kind of physique, you don't need to work out as frequently as the former World of Dance hostess. On average, Ben Williamson, CEO and founder of CrushFit, tells Elite Daily, one 30- to 40-minute workout per day is plenty. Still, there's no harm in looking to your favorite celebs for workout inspiration, and IMO, the hotel workout that Dewan recently posted on her Instagram is the perfect example of the types of exercises you can do when you're low on time and resources, but are still looking to work up a decent sweat.
Dewan shared her go-to travel workout via Instagram on Oct. 3, and now I'm even more convinced that she and I were meant to be BFFs, because I, too, push all the furniture in my living room aside to get in a quick workout. Even though Dewan's recording has been ramped up to hyper-speed (IG special effects for the win), the performer made sure to write out her routine in the caption so her followers could try it for themselves.
"Sometimes a quick on the go home/hotel workout is all i have time for...!" Dewan wrote in true "celebrities: we're just like you" fashion. But hey, don't roll your eyes — sure, your day-to-day might be far from the life Dewan's leading, but I think it's pretty cool of her to connect with fans through her fitness routine, not to mention offer inspiration for new, simple workouts to try when your own regimen gets stale.
So now that I've got you on the edge of your seat, you're probably wondering what kind of workouts a dance sensation like Jenna Dewan fits into her hectic schedule when time is of the essence, and a trip to the gym just isn't realistic. The full sequence of her hotel workout, Dewan wrote on Instagram, consists of "25 knees to chest, 20 squats, 10 pushups, 10 squat jumps, 25 sit ups," and she recommended you repeat the sequence five times for a complete routine. Totally doable, right? And, BTW, if five rounds isn't your speed, there's no shame in starting with two or three rounds and working your way up. You don't have to follow Dewan's workout to a T; the purpose of her post is to simply inspire you and give you ideas to work off of.
What's especially admirable about Dewan is that, not only are the workouts she shared flexible enough to tack on to or work into your own routine, her entire outlook on exercise in general is one that I think everyone could learn something from. It can be so easy to fall into the mindset that assumes the purpose of working out is to look a certain way, but for this mama, fitness isn't solely about physical aesthetic; it's first and foremost a means to an end — physical strength. Back in July, Dewan told Women's Health,
I want to build muscle, so I can pick up my daughter. Before, it used to be like, 'I wanna get long, lean muscles.' Now, I'm just like, 'I wanna feel strong and good.'
Personally, I used to believe that the only way to get in a good workout was to either go to the gym, or meticulously follow a workout program designed by a trainer. Now, though, I know that the real goal when it comes to fitness is to simply move your body, in one way or another. As long as you're getting your heart rate up, performing each move safely, and enjoying what you're doing, that's all that really matters — even if your routine includes the most basic, simplistic moves like push-ups and sit-ups.
The exercises in Jenna Dewan's hotel workout are so perfect for beginners and intermediate athletes alike because they don't necessarily require any equipment, but if you wanted to challenge yourself, you could absolutely add in dumbbells or resistance bands. What's more, the amount of sets and reps you perform is also 100 percent up to you, and can be adjusted based on your fitness level. The key is to always listen to your body, and challenge yourself, while still acknowledging and respecting your body's limits. You can always add or subtract moves that may or may not suit you in the moment, and as your body adapts to the sequence, you'll be able to advance.
So it turns out, celebrities are just like us (sort of), and Dewan is the perfect example of this. At the end of the day, we're all on the grind and on a mission to feel our best. Dewan's hotel workout is a great point of reference if you're looking to freshen up your routine, but remember: Just because this regimen works for Jenna, doesn't necessarily mean it's going to be what's best for you. As long as you're doing what makes your body feel good, that's all that matters.