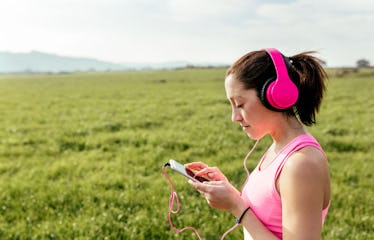 Download These 5 Apps If You Want To Keep Up With Your Workout Routine On Vacation
Summertime is all about traveling, relaxing, and restoring, but that doesn't mean your workout routine has to fall by the wayside in the process. Whether you're going for a run outside to enjoy some breathtaking views of your travel destination, or you're doing a quick circuit in the gym before you hit the beach for the day, staying active while traveling is an awesome way to feel your best all vacation long. Nowadays, the easiest way to stay on track with all of your fitness goals is to download workout apps to use while traveling, so you can let technology do all the planning and let your body do the rest.
Of course, you don't have to work out while you're on vacation by any means, and you definitely don't have to feel guilty if you decide to devote your travels to complete and utter relaxation. After all, you work hard, and you deserve that quality R&R, girl.
But if you find yourself with a little extra free time on your vacation, or your body's simply craving some movement while you're OOO, these five apps will help you recreate your workout routine abroad. Traveling and taking care of yourself really do go hand-in-hand, my friends.