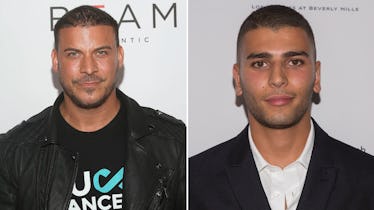 A 'Vanderpump Rules' Star Shaded Younes Bendjima So Hard Over His Breakup With Kourtney K
Jesse Grant/Getty Images Entertainment/Getty Images & Gabriel Olsen/Getty Images Entertainment/Getty Images
My dream is slowly coming true. My two greatest passions, the Kardashians and Bravo reality TV stars, are finally beginning to merge. Kourtney Kardashian's ex-boyfriend Younes Bendjima was just at the same gym as Vanderpump Rules villain Jax Taylor in California, and the lingering drama in that room is so dense I can almost feel it from my studio apartment on the East coast. Everyone knows Kardashian and Bendjima recently called it quits, and Taylor was there to rub salt in the wound. Jax Taylor shaded Younes Bendjima over his breakup with Kourtney Kardashian and I honestly wouldn't expect anything less from this playboy.
Bendjima and Kardashian were together for nearly two years before breaking up for good. It seemed things were on a downward spiral after Bendjima left a rude comment on one of Kardashian's bikini pics. Then, he was photographed partying in Mexico getting nice and cozy with a woman named Jordan Ozuna. One that happened, TMZ reported Kardashian officially cut the cord roughly a month ago. Now, Bendjima is back to a pre-Kardashian lifestyle, "slumming it" in regular gyms with non-Kardashian types.
Enter Jax Taylor.
Taylor is most widely known for his player behavior on Vanderpump Rules. He's also pretty obsessed with his physical appearance, too. Apparently, Taylor stumbled upon Bendjima in his local gym and did not pass up the opportunity to kick another man while he's down. (If there's one thing Taylor loves it's maximizing the bad things happening to other people to minimize his own crap-behavior or misfortunes.) Taylor seems to have sneakily snapped a pic of Bendjima resting on a machine next to him. Taylor captioned the picture:
when kourtney kardashian dumps you and you have to slum it like the rest of us at a normal gym. no more figi diamond water either. got to drink that smart water now.
TMZ reports Taylor responded to their coverage of the photo saying, "Come on it's kind of funny, wasn't trying to be a d*ck. It happens to be best of us. Drake should make a song though 'started at the top now we here'. Maybe next album?"
Ah yes, there's that Jax wit we all know and love.
Admittedly, Bendjima has been a little sensitive to all of the media surrounding his breakup. (Fair, I guess.) After the photos surfaced during his time in Mexico, Bendjima wrote his own message on Instagram for fans and the press. He posted:
They really want me to be the bad guy f*ck your Hollywood bullsh*t (can't have fun with your friends no more) dailymail Where are my 12 others friendssss? Nice catch tho
He also wrote:
Once again you guys failed. I'm not attached to this 'life' so you can't touch me. I know who I am where I'm from and where I'm going and that bothers you. Only one opinion matter The one of my Lord. Have a wonderful day.
Kourtney's sister Kim actually commented on that last one, too.
Obviously, Bendjima has bigger drama to deal with right now than Jax Taylor. But then again, no one likes to "get Jaxed."