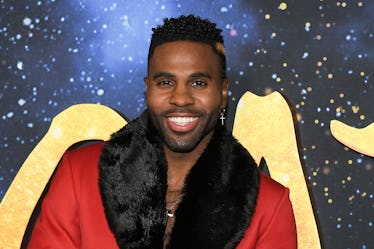 Jason Derulo Is Making Drool-Worthy Food On TikTok That You'll Want A Piece Of
Dia Dipasupil/Getty Images Entertainment/Getty Images
You know Jason Derulo for his singing, dancing, and acting, but he's not just a triple threat. He's a quadruple threat, because he's also making tasty things happen in the kitchen. Jason Derulo's food TikTok videos are too good to miss, and they'll instantly make you drool.
If you're not already following Derulo on TikTok, do yourself a favor and click that "follow" button right now. When he's not posting videos of himself dancing to the latest trends or playing with his adorable dogs, he's making delicious treats you'll want a piece of.
The best way to describe his kitchen masterpieces is if you were given the keys to Willy Wonka's Chocolate Factory. You would have a field day making your very own deep fried pancake tacos and larger-than-life ice cream sandwiches. Now, whenever Derulo reaches a new follower milestone, he'll post a brand new #MilliMeals recipe video, which you need to see to believe.
Just a warning: Watching these TikTok food videos will definitely make you hungry. So, you might want to go to the store first and pick up a few sweet ingredients of your own. That way, you can make your very own Derulo-inspired dish to enjoy. Sharing is, of course, totally optional.