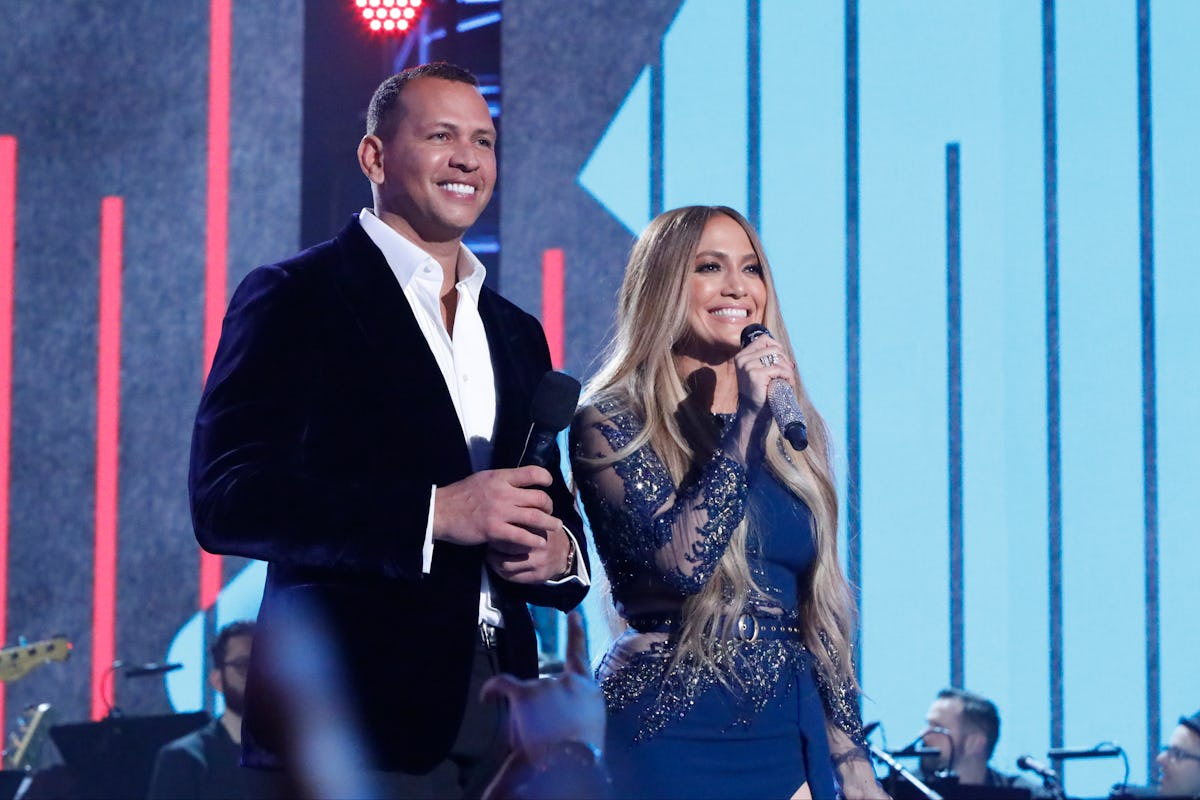 5 Flirty Social Media Moments Between J. Lo & A. Rod That Prove They're Perfect
Handout/Getty Images Entertainment/Getty Images
J. Lo and A. Rod. This pairing seems so obvious, I'm not sure why it didn't happen sooner. The baseball player and singer have been dating for 10 months, but it honestly feels like they've known each other forever (in the best possible way). With 2017 quickly coming to close, it's a great time to reflect on their cutest moments. J. Lo and A. Rod's best flirty social media moments will seriously make you swoon.
Lopez and Rodriguez met in the most normal fashion, out to lunch in Los Angeles. J. Lo recounted the story during an interview on The Ellen DeGeneres Show. Surprisingly, the singer was a little shy when telling the story. She said,
It's very simple... I was having lunch somewhere and I saw him and he passed by... and then afterwards I went outside but for some reason I just felt like tapping him on the shoulder... and I said, 'Hi Alex,' and he's like, 'Hi! Jennifer!' and I was like, 'Yeah,' and then that was it.
They chatted about living in Los Angeles and Rodriguez asked her to dinner. I'm dozing off re-telling the story of their meeting. How could Jenny from the block connect with someone in such a plain way?
However, Rodriguez definitely brought it on their first date. During an interview with Vanity Fair, Lopez gushed,
He was sitting there in his white shirt, very confident and manly, but then he was just so talkative! I think he thought I was going to be this loud person, but I'm not. I just listen ... So he's talking, talking about his plans, about how he had just retired from baseball, about how he saw himself getting married again, all these things you wouldn't normally talk about on a first date.
Stage five clinger, much? Totally kidding, J. Lo was obviously digging it.
Now, the two are totally gaga for each other. During an interview with Extra, Lopez called Rodriguez a "generous human" and "loving father." Awww, Jen, you're going to make him blush! She said,
He's a loving father. He's a generous human being with his family, with his friends, with me. He's caring and sweet and capable and responsible and just all the beautiful things you would want a man to be. I feel really lucky right now, so I'm excited about life.
OK, we get it, they're in love. The two have had a strong 10 months, and have even shown some social media PDA. Actually, a lot of social media PDA. The couple has had some extremely flirty exchanges on Instagram. Below are some of the downright most frisky.
"Hurry home"
Lopez is a busy lady, and has spent time touring all over the world. She posted a smokin' picture on Instagram of her killing it on stage and it made Rodriguez miss his pop star. He commented on the Instagram, "hurry home" with two eyeball emojis. So sweet.
"She's hot"
Obviously, Jennifer Lopez is one of the most gorgeous women to grace planet earth, and A. Rod knows it. Lopez posted a sunglass selfie on Instagram which Rodriguez responded, "She's hot" with a fire emoji. A man of few words, but they're all the right ones.
"Could not have done it without you my love"
Lopez and Rodriguez don't just look pretty standing together, the two are a legit power couple. According to E!, Lopez and Rodriguez raised $30 million in donations through the One Voice: Somos Live! telethon. On Instagram, Lopez posted a photo of her and Rodriguez smiling on stage during the event.
Lopez commented on the photo, "@arod could NOT have don't it without you my love." I think there was a typo and she meant to say "done it without you," but we all get the gist.
"Love our weekends"
Lopez posted this sweet selfie of her and Rodriguez enjoying a weekend together. He looks like he's wearing a white T-shirt and she's wearing a chunky knit sweater — I'm not sure what the weather was like.
Lopez sweetly captioned the photo, "Love our weekends ... now back to work!!" Rodriguez simply commented in response, "Me too," with a fire and heart emoji. In the words of Rachel Green from Friends, "You two are right there, aren't you?"
So. Many. Selfies.
If you peruse Lopez or Rodriguez's Instagram or Twitter accounts, they are dripping with photos of each other. There is no "are they or aren't they" vibe — the two are happily together and they don't care who knows it.
J. Lo and A. Rod are seriously couple goals AF. It looks like they've had a fabulous 2017, and I can't wait to see what 2018 has in store for them.
Check out the entire Gen Why series and other videos on Facebook and the Bustle app across Apple TV, Roku, and Amazon Fire TV.