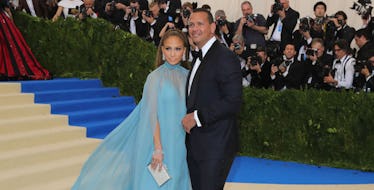 J. Lo and A. Rod Riding Bikes Together Are Basically You And Your BF, But Famous
Neilson Barnard/Getty Images
Celebrities really ARE just like us! I know, because I follow them on social media.
This past holiday weekend, Jennifer Lopez and Alex Rodriguez celebrated America's independence like many of us probably did: with a lovely bike ride to yoga class followed by a performance for Macy's Fourth of July celebration.
What? You guys didn't do that? You were busy shotgunning PBR's and taking naps in public?
Weird.
We know this, because J. Lo posted an adorable video of the pair riding their bikes in the gorgeous sunshine. A. Rod then posted it on his own Instagram story for his 840 thousand followers to enjoy.
Yup. Those are some serious muscles and perfect teeth you're looking at.
And not that age matters – BECAUSE IT DOESN'T, OK?! – but A. Rod and J. Lo are 41 and 47 years old, respectively. THAT MEANS J. Lo is the older one! Jennifer Freaking Lopez is knocking on 50 and looks like what I dreamed of looking like when I was hitting puberty.
Maybe it's all that bike riding to yoga. Hmm...
The happy couple has been together for several months now, and seem to be going strong.
In an interview with Extra, Lopez said about her beau,
He's a loving father. He's a generous human being with his family, with his friends, with me. He's caring and sweet and capable and responsible and just all the beautiful things you would want a man to be. I feel really lucky right now, so I'm excited about life.
OK, we get it. You're rich, and gorgeous, and talented, and in love, and mega-celebrities. AREN'T WE ALL?!
Rodriguez echoed back the admiration, telling Entertainment Tonight in June,
Jennifer is one of the most brilliant business minds that I've ever met. She's the hardest working lady and, you know, I grew up with a single mother. I have two daughters. I am a big, big promoter of women equality.
Well then. The light in us honors the light in you, A. Rod and J. Lo.
Namaste.