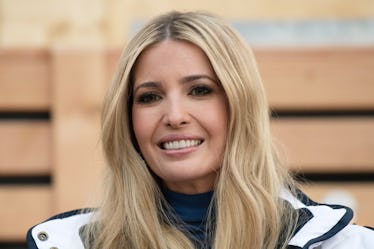 Ivanka Trump Didn't Seem Fazed By This Year's White House Correspondents' Dinner
Carl Court/Getty Images News/Getty Images
When President Donald Trump said he wouldn't be attending the White House Correspondents Dinner, he meant it. And, given his very public spats with so-called "Fake News" organizations, whose representatives are always at the event, I'm honestly relieved by Donald's decision not to go. (Could you imagine the amount of tension and side-eyes that would be in the room?) But now, all eyes are on his family, specifically his oldest daughter and right-hand Ivanka Trump. And Ivanka Trump's response to the 2018 White House Correspondents' Dinner is exactly what you'd expect it to be.
The dinner Saturday night is meant to celebrate the First Amendment right to freedom of speech and the members of the press cops that protect that right. The dinner is also a time for politicians and members of the media to let loose and make fun of themselves. The host of the dinner, comedienne Michelle Wolf, delivered a fantastic speech where she poked fun at Congress, members of Trump's cabinet, and of course the president himself.
First daughter Ivanka was not present at the dinner on Saturday, and she didn't publicly react to the speech or anything related to the dinner at all. Which is what we've come to expect from her, as she's been silent about the annual affair last year as well. However, Ivanka and her husband Jared Kushner did attend a dinner hosted by Atlantic Media owner David Bradley on April 27. So she did participate in bipartisan mingling, per The Washington Post, even though it wasn't at the main dinner on Saturday night.
But even though the president and Ivanka were not present at the dinner, Kellyanne Conway and Sarah Sanders were there representing the Trump administration. And the expressions on their faces during Wolf's speech truly say it all.
On April 6, the White House Correspondents' Association (WHCA), which hosts the event, announced that Donald wouldn't be attending the dinner. In a statement shared to Twitter, WHCA president Margaret Talev wrote,
The White House has informed us that the president does not plan to participate in this year's dinner but that he will actively encourage members of the executive branch to attend and join us as we celebrate the First Amendment. In keeping with tradition, Press Secretary Sarah Sanders also will represent the administration at the head table. The April 28 dinner celebrates award-winning reporting, scholarship winners and the vital role of the First Amendment and the free press in American democracy.
It was an announcement that wasn't extremely shocking for many, considering Donald is in an ongoing (and often one-sided) war with several news outlets and their journalists. Just days ago, on April 21, the president lashed out against The New York Times' White House correspondent Maggie Haberman over her coverage of the criminal investigation of his lawyer Michael Cohen. Donald took to his Twitter to slam Haberman, calling her a "third-rate reporter" and a "Crooked H flunkie" in multiple tweets.
But the online attack was far from his first. He even skipped last year's correspondents' dinner to attend a rally in Pennsylvania because of his battle with the press. And his daughter was MIA, too. At the time, White House staffers chose to stand in "solidarity" with the president, per The New York Times. A statement from the White House's then-press secretary Sean Spicer read, "The staff is standing in solidarity with the president, who has been treated unfairly. We hope, including the president, that things improve and we can attend next year."
On the bright side, it's probably a good thing that Trump didn't attend because she totally got called out by the host of last year's dinner and Daily Show star Hasan Minhaj. Minhaj joked that if Trump was in attendance, he would've asked her why she supports Donald — even though he's her father. He said,
Now Ivanka Trump isn't here either, and I wish she was. Because if she was here, I would ask her the question that we're all thinking: why? Why do you support this man? Because I get it. We all love our parents. But we wouldn't endorse them for president. If someone's like hey, Hasan, should your dad be president of the United States? I'd be like, my dad? Najmi Minhaj? The guy who tries to return used underwear to Costco? No!
Clearly, Trump dodged a bullet 'cause, boy, that's awkward.
Trump's decision to skip this year shows that she clearly had a good idea of what to expect this year. Good for her, but more's the pity for us. Someday, there will be a Trump at the Correspondents' Dinner.