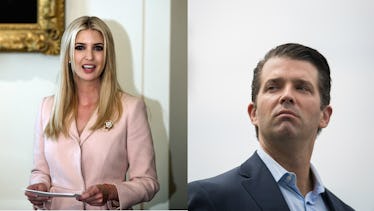 Ivanka Trump Vs. Don. Jr.'s Body Language Show A Lot More Similarities Than Differences
Pool/Getty Images News/Getty Images & Drew Angerer/Getty Images News/Getty Images
To be a part of the Trump family, confidence is key. As one of the most public, not to mention controversial, families in the world right now, everyone is expected to make speeches, attend meetings, and help host annual traditions. This has to be an intimidating feat at times, and Ivanka Trump versus Donald Trump Jr's body language shows that the two siblings can handle whatever is thrown at them.
When comparing Ivanka and Don Jr. side by side, it's easy to target differences. However, upon closer inspection, many will find that these two have a lot more similarities that we might have missed. From their work ethic to parenting style, it looks like this brother-sister duo might be much more of the same than we initially believed.
Elite Daily spoke with body language experts Blanca Cobb and Traci Brown, author of Persuasion Point: Body Language and Speech for Influence, to hear their thoughts on what these siblings' body language says about them. The two oldest Trump siblings have a lot on their plate, and their body language can say so much about how they can handle the stress. According to the experts, these two Trump siblings have some major similarities — and one big difference. Check it out.