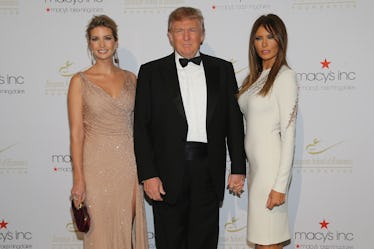 Donald Trump Likes Ivanka "A Lot More Than Melania," Body Language Expert Says
Neilson Barnard/Getty Images Entertainment/Getty Images
Few step-mom-step-daughter duos are as fun to examine as the one in the White House. Ivanka and Melania Trumps' body language hasn't actually changed too much over the years, but that's not to say their dynamic is all peaches and cream. I spoke with Traci Brown, a body language expert and author, about how the dynamic has changed between the two women in the nearly two decades they've been in each other's lives.
To understand a bit more where the step-mother role plays in, consider the age differences in the family. Don Jr., Ivanka, and Eric, are 41, 36, and 34 years old, respectively — not too far from Melania, who is 47. In an interview with Harper's Bazaar, Melania said that she didn't see herself as a mom to them, adding, "I am their friend, and I'm here when they need me."
Donald first met the Slovenian model Melania Knauss, age 28, in September 1998; Ivanka was just 16 at the time. At this point, Trump's divorce Marla Maples — the woman he had an affair with while married to Ivanka's mother Ivana — had not yet been finalized. Trump and Knauss got married in 2005.
Though some have speculated that the step-mother and step-daughter have a tense relationship, Stephanie Grisham, spokesperson for the first lady, told Vanity Fair that they "have always shared a close relationship."
And the two seem to be getting along, according to Brown, if not enthusiastically, then at least cordially. "I think they are genuinely coexisting," Brown says in an interview for Elite Daily. The two women seem to understand their role in the Donald Universe. (And the first lady especially tends to be extremely composed, poised, and image-conscious.)
"They're kind of putting on a show of support for Donald," Brown adds, "but I don't know how deep that support really runs."
That said, she doesn't believe Ivanka and Melania are hiding their true emotions. "I don't think they're putting anything on for us," Brown says. "I think we've seen what's true. I don't think you can be in front of the cameras with the level of consistency they have and have it be anything different."
I think Donald likes his daughter a lot more than he likes Melania.
But as for how Donald comports himself around the two main ladies in his life? That's a whole different question.
"I think Donald likes his daughter a lot more than he likes Melania," Brown tells me. "It sounds horrid to say that, but … His attention is very clearly more on his daughter — when they're together — than it is on his wife. If Melania's in the picture, he's almost always got his arm around Ivanka. It's really crazy."
As for whether the two women appear to be aware of their comparative importance to him? "There may be some fight for attention from Dad from Ivanka," Brown says. "To say that could be going on, I think, would be true."
But that's not to say the dynamic couldn't be better. Brown compares Melania and Ivanka's dynamic to Melania's relationship with the other Trump daughter, Tiffany. She sees a noticeable difference in how the women in each dyad feel towards each other.
She references the first family's festivities around Easter, when Tiffany, Melania, and Donald attended mass in Florida and later participated in the White House Easter Egg Roll.
"I have never seen any video between Ivanka and Melania that looks anything close to that. They're genuinely happy to see each other," Brown says, referencing the video below of the two women greeting each other.
"I see more emotion from Tiffany and Melania than from Ivanka [and Melania]," Brown says. "That could just be their personalities, but we generally see bigger smiles from Tiffany; she's not in the spotlight as much and may not feel she needs to hold back."
There maybe a reason for that. "Distance makes the heart grow fonder," Brown says. "Tiffany has less opportunity to get involved in all these petty things." And to be fair, with all the tension that's been swirling around the White House, it would make sense Trump's two closest females — Ivanka and Melania — have an off moment every now and then.