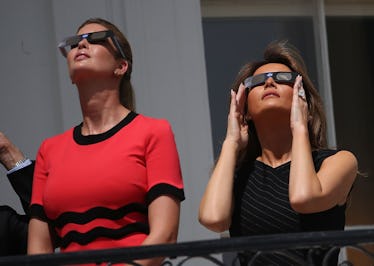 This Melania Trump Quote About Ivanka Sums Up Their Relationship
Mark Wilson/Getty Images News/Getty Images
I'm starting to think Melania and Ivanka Trump wouldn't be caught dead in a room with each other, because they hardly appear together or speak about each other publicly. It seems odd, given that Ivanka is a special adviser to her father, President Donald Trump, and Melania is, well, Melania. They both are incredibly closely tied to the president, and yet as far as the public sees, they each seem to act as if the other doesn't exist. There may be good reason for this, though, as literally one of the only public utterances by Melania about Ivanka reveals. This Melania Trump quote about Ivanka sums up their apparent relationship entirely.
In a 2016 interview with Harper's Bazaar, Melania explained that she doesn't deem it appropriate to be motherly to Donald's children from his previous marriages. Melania is 48. Ivanka is 36. They each have young children to care for, which could explain why their relationship does not entirely seem to be a typical mother-daughter one to the public.
"They are grown-up," Melania said of her step-children. "I don't see myself as their mother. I am their friend, and I'm here when they need me." She added that she doesn't interact with Donald's ex-wives, Ivana Trump and Marla Maples. "We don't see each other," she said. "That was his past life."
There's a lot to unpack here, and Melania's words reveal a lot about how she frames her relationship with her stepchildren, including Ivanka. It makes sense that Melania prefers to keep a lower profile, spending most of her time raising 12-year-old Barron — he's still very young. Melania previously told Parenting when Barron was 6 years old, "I am a full-time mom; that is my first job. The most important job ever."
The Ivanka-Melania relationship has reportedly had its strains. In a May 2017 Vanity Fair article on the Trumps' marriage, the magazine described Melania and Ivanka's relationship as having a "frostiness" to it, according to two unnamed sources. The tension was apparently in large part thanks to the strain of Melania's decision to stay in the New York for the first six months of the Trump presidency. "Stepping in for Melania has also been an obligation" for Ivanka, according to the magazine. (Melania's spokesperson, Stephanie Grisham, denied this. She told Vanity Fair that the two "have always shared a close relationship, and that continues today." Elite Daily reached out to the White House for comment on their relationship, but did not hear back at the time of publication.)
It's possible that she wants to keep them compartmentalized for her own relationship with her husband, but regardless, Melania and Ivanka's relationship doesn't appear to be as cold as it was once rumored to be. Business Insider reported in January that Ivanka appeared to be copying Melania's fashion sense — indicating that the two could possibly be close, despite not appearing often in the public view together.
Case in point, Ivanka has returned the good vibes toward her stepmom. "Melania is an unbelievable mother," she told People in July 2016. "It's pretty uncommon for wives of candidates to not be on the campaign trail every day. And she made a decision I totally respect which is that she has a young son, he needs stability, he needs routine."
Little else is known about their relationship — Ivanka and Melania rarely appear together and rarely speak about each other candidly to the media. But again, that's not super unusual — Ivanka was 24 when Donald and Melania got married in 2005. They're cordial enough, and they have their own things going on — fashion sense and otherwise.