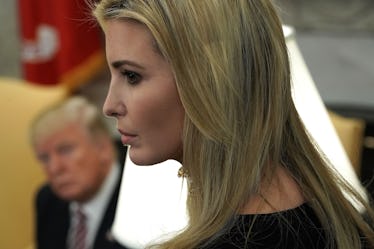 Ivanka Trump Doesn't Put Arming Teachers Off The Table & Everyone Is Confused
Alex Wong/Getty Images News/Getty Images
The president's daughter and adviser on Sunday, Feb. 25, gave her two cents on the topic of gun violence while in PyeongChang, South Korea to attend the 2018 Winter Olympics closing ceremony. In an interview with Peter Alexander for NBC's Today show, Ivanka Trump said arming teachers is an option that needs discussion. Her comments add to a controversial conversation about how to prevent mass shootings in schools.
Alexander asked the first daughter if she thinks arming teachers would make students safer. In her response, she didn't appear to explicitly support or oppose the idea, instead going back in forth in consideration.
"To be honest, I don't know," Trump said in reply. "Obviously, there would have to be an incredibly high standard for who would be able to bear arms in our school," Trump said. "But I think there is no one solution for creating safety."
Asked whether she anticipated advising the president on the topic of school safety, she added, "I think that having a teacher who is armed who cares deeply about her students or his students and who is capable and qualified to bear arms is not a bad idea, but it is an idea that needs to be discussed."
During the NBC interview, Trump also responded to allegations of sexual misconduct against her father, the situation with North and South Korea, and the investigation into Russian meddling in the 2016 election.
Many people on Twitter took issue with Ivanka Trump's indecision on the idea of arming teachers, which is especially heated as the interview comes less than two weeks since a 19-year-old shot and killed 17 people at his former high school in Parkland, Florida on Feb. 14. Since the attack, students at Marjory Stoneman Douglas High School and across the country have taken up the mantle of protesting gun violence, from storming capitols to organizing demonstrations.
The White House last week held a listening session for survivors and community members on the topic of gun violence in schools, where President Donald Trump entertained the notion of arming teachers as a possible solution to stop or prevent active shooters. Under that potential plan, Trump said, he would offer federal funding to provide firearm training to educators as well as bonuses to those who received it.
He later said on Twitter that he hadn't suggested arming teachers, saying instead that he'd said the "possibility of giving 'concealed guns to gun adept teachers with military or special training experience" during that session. In a tweet on Feb. 24, he reaffirmed his position and said the decision would be up for states to make individually.
After the news that Trump was considering arming teachers, two English teachers, Brittany Wheaton and Olivia Bertels, started a social media movement to allow educators like themselves to weigh in on the idea. The hashtag took off, with people posting what they'd prefer to be armed with rather than firearms.
Educators all over the country — over 7,000 of them as of Feb. 23 — responded with possible solutions to gun violence in schools.
There have been numerous developments around the topic of gun control in the last several days.
In addition to the White House listening session, survivors and advocates gathered for a Town Hall forum hosted by CNN to discuss the subject. Senator Marco Rubio and National Rifle Association (NRA) spokesperson Dana Loesch took up what became a testy and heated debate.
Also on Feb. 21, Florida lawmakers denied a motion to hear a ban on assault rifles before an audience that included Stoneman Douglas students.
On Friday, a couple states did see some changes, though. Governor Rick Scott of Florida announced a multi-pronged plan to prevent future mass shootings. Meanwhile, in Oregon, state lawmakers passed a law banning people convicted of stalking or domestic violence or who have restraining orders from purchasing or owning a firearm.
It remains unclear whether the younger Trump's stance on arming teachers aligns more with her father, or with advocates who have made it clear they do not want firearms in schools.