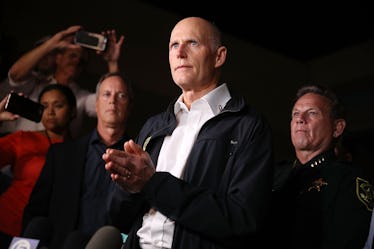 The Florida Governor Suggested Gun Control Laws, But Not All Of What Students Asked For
Joe Raedle/Getty Images News/Getty Images
After a week of tense conversations nationwide around the Second Amendment, there may be some developments ahead. In an announcement on Friday, Feb. 23, Governor Rick Scott unveiled a series of proposals, signaling that gun control laws in Florida may change. Scott's announcement comes nine days after a school shooting in Parkland, Florida claimed the lives of 17 people.
"There is nothing more important than to do all we can to make sure a horrific and evil act like the Parkland shooting never happens again," Scott wrote in a Friday tweet. The Feb. 14 shooting took place at Marjory Stoneman Douglas High School.
In his Friday announcement, Scott listed off a series of measures to prevent future school shootings in a speech given before state lawmakers in the capitol of Tallahassee. In a tweet, New York Times Miami bureau chief Patricia Mazzei called Scott's plan "the most significant move toward gun control in Florida in decades."
Scott began his Friday speech by naming the 17 people who lost their lives last week in the shooting. "Unfortunately, none of the plans I'm announcing today will bring any of them back, but it's important to remember them," he said, per the Times. Citing the students who travelled to Tallahassee to voice their opinions in the statehouse, he added, "What we saw in this building on Wednesday is what our democracy is about and why we live in the greatest nation on earth. My message to them has been very simple — you are not alone. Change is coming … and it will come fast."
Scott's announcement is a significant change from the tone in Tallahassee just two days ago. On Wednesday, Feb. 21, Florida lawmakers voted down a motion to hear a ban on assault weapons. Thousands of students from the state, including from Stoneman Douglas, had made the journey to the statehouse to be present for the vote, engaging in a rally. They were joined by young protesters across the country who took to the streets to demand change.
Scott divided his measures up into three categories to prevent school shootings: mental health, gun laws, and school safety.
Scott's Friday proposal largely flies in the face of the stances the National Rifle Association (NRA) has taken on gun control and ownership. Scott, a Republican, has long supported gun rights and received high marks from the NRA.
Among the proposed changes to gun laws, per The Tampa Bay Times, Scott announced moving the age restriction up to 21 from 18, prohibiting people with mental illnesses from possessing and buying firearms, and banning the sale of bump stocks.
As for school safety, he promised to devote $450 million to the cause. That would fund increased security on campuses, allowing for a new benchmark of one officer for every 1,000 students, to be implemented beginning in the 2018 school year. He's also requiring mandatory active shooter training, and seeks to upgrade campuses to include bulletproof glass and steel doors.
He also mentioned, however, that he was opposed to arming teachers with concealed carry weapons as a deterrent or solution to active shooters on campus, breaking ranks with President Donald Trump, who earlier this week signaled he was considering the idea.
"I disagree with arming teachers," Scott said. "You need law enforcement that is well trained … Let teachers focus on teaching."
However, the list of changes doesn't necessarily align with the demands made by students. While many of the students and advocates protesting gun violence have called for a ban on assault weapons, Scott's proposal on Friday did not mention any specific bans.
Per the Tampa Bay Times, Scott told reporters, "Banning specific weapons and punishing law-abiding citizens is not going to fix this."
The New York Times reports that Scott's plan was well received by Florida lawmakers in both the state House and Senate, and if we're to take him at his word, change might come sooner for Florida than anticipated.