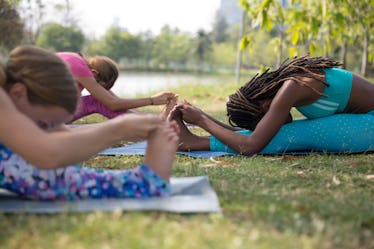 6 Yoga Poses That Need To Be Part Of Your Self-Care Routine If You Have PCOS
Since there are about 10 million women worldwide living with polycystic ovarian syndrome (PCOS), that means there are a lot of women dealing with a wide variety of potentially painful and relentlessly frustrating symptoms every single day, including things like irregular periods, pelvic pain, cystic acne, chronic fatigue, and mood swings. While there isn't a cure for PCOS, self-care practices — including a nutritious diet, plenty of sleep, and gentle exercise — are extremely beneficial for managing and coping with the symptoms. So, with that in mind, is yoga good for PCOS and some of the symptoms that come with the condition?
You bet it is. A general, consistent yoga practice boasts benefits that extend well beyond just keeping your body strong and stretched, but certain yoga poses are shown to be especially great for soothing painful symptoms associated with PCOS, such as back and pelvic pain.
If you're living with PCOS, remember that you are not alone; it is one of the most common hormonal disorders that we know of. As disruptive as the symptoms can feel when trying to enjoy your everyday life, cultivating self-care practices that help you feel your best is absolutely key for coping with anything and everything life plans on throwing your way. Try some of these restorative, relaxing yoga poses the next time you're looking for a little relief.