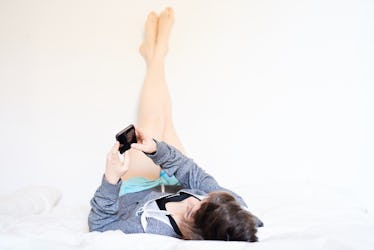 The 7 Exercises One Yoga Teacher Swears By To Heal Even Your Worst Back Pain
I don't know about you, but especially when I'm sitting all day for work, my back really feels it. Hunching over a computer with my shoulders all tense and knotted up, my spine starts to resemble a turtle shell, and my lower back can, at its worst, start to spasm. It's painful and, you know, not that cute, to say the least. But knowing exercises to heal back pain helps me stay strong and limber, even on the days when I know I'm going to be trapped in the ol' desk chair for what seems like eternity.
If you feel me on this, we are not the only ones, amigas. More than 54 percent of people who experience back pain sit all day for work. Moreover, it's one of the leading causes of disability in the whole freaking world.
Moral of the story? We have to keep our backs strong and stretched. Lucky for you, Elite Daily spoke with yoga teacher Vanessa Dunleavy, who shares some great stretches that'll not help with your aching back, but will keep you centered mentally, as well.
Dunleavy suggests that if you're suffering from back pain, concentrate on gentle, simple poses that you can take at your own pace. These seven poses will work to relieve tension, as well as strengthen the muscles in your back.