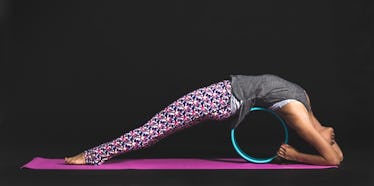 Flow Through These 5 Yoga Poses Every Day To Say Goodbye To Your Lower Back Pain
Pixabay
Whether PMS symptoms have you aching like crazy, or you work at a desk job that forces you to sit with a stiff upper body most of the day, suffering from lower back pain is the worst. TBH, it might seem like you've tried everything: heating pads, a massage from bae, and even resorting to popping ibuprofen by the handful whenever the pain strikes. And yet, that stubborn ache just won't budge. However, yoga for lower back pain might just be the answer to your pain-relieving prayers.
According to a study published in the journal Annals of Internal Medicine, yoga really can be a simple, yet highly effective cure for your lower back woes. In the research, three groups of people with chronic lower back pain were assigned different ways to relieve their aches. The results showed that those who attended yoga classes drastically reduced their need for medication by the end of the study.
And, as a yoga teacher, I can tell you with confidence that the combination of lengthening, stretching, and strengthening your spine in certain yoga poses provides the perfect trifecta to banish any type of lower back pain you may be dealing with. Specifically, flowing through these five poses will give you the relief you've been searching for. You can thank me later.