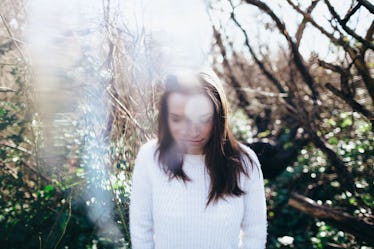 Unhappiness Can Be Contagious, But Here Are 7 Easy Ways To Avoid It
When I graduated from college, the first thing I forced myself to let go of (after chucking that super awkward campus ID photo), was the toxic friendships I'd held on to. Adulting is about growing up, growing wiser, and ultimately, leading your best life as your best self. Surrounding yourself with a social circle that builds you up is a huge part of that, but there's a difference between toxic people and unhappy people. Unfortunately, life has plenty of downs to accompany the ups, and you might start to wonder if unhappiness is contagious, especially if you're around someone who's going through a rough time, or someone who simply doesn't know how to find the positives day-to-day. The bad news is, yes, it's possible for someone else's unhappiness to influence you. But the good news is that how you react to the moods of people around you is entirely up to your discretion.
According to Clarissa Silva, a behavioral scientist, relationship coach, and creator of Your Happiness Hypothesis Method, your unhappiness, like any emotion, is the combination of two things: a state of being, and a condition that you, and only you, have the power to create. In fact, per smartphone app Happify's "The Science of Happiness" infographic, 40 percent of a person's happiness is controlled by their own thoughts, behaviors, and how they process things, while only 10 percent is a reflection of circumstance, such as the emotions and moods of those around them.
So is unhappiness actually contagious, even if the emotions of others only make up about 10 percent of your emotional state, or is the unhappiness of others something your mind either gives into or rejects? Well, as far as Cheryl Pierce, a certified high-performance coach, former registered nurse, and founder of Skinworx San Francisco and Ageless Beauty Skin Clinic, Inc., is concerned, it's a little bit of both. "I would say our family and friends close to us can definitely feel our energy. It's something we cannot see, but it's there," she tells Elite Daily. "Our emotions affect the people around us, and depending on their sensitivity, they may 'catch' how we feel."
Evidently, it works both ways: The emotions around you can definitely take a toll on your own. The trick is to not let other people's unhappiness influence your happiness. It's easier said than done, I know, but here are a few expert tips to reel in unnecessary emotions and, instead, wear a genuine smile through it all.