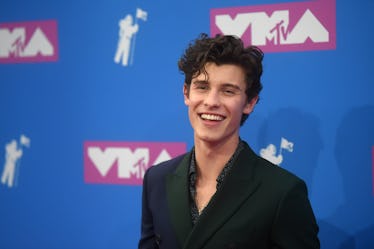 Shawn Mendes Just Revealed If He's Dating Someone After All That Justin & Hailey Drama
Jamie McCarthy/Getty Images Entertainment/Getty Images
It's been a big year for surprise celebrity engagements, unusual famous-people pairings, and Shawn Mendes. Fans have been paying closer attention to the singer-songwriter ever since his rumored ex-girlfriend Hailey Baldwin jumped into an engagement with Justin Bieber. Thanks to the perceived drama, people have been asking the question: Is Shawn Mendes single? Despite the ups and downs in his social circle, Mendes seems to be thriving. In a new interview with Variety, Shawn Mendes made it exceptionally clear that yes, he is very much single right now.
If you guys recall, Baldwin and Mendes stepped out together on the 2018 Met Gala red carpet in May and everyone cried, "COUPLE!" Very shortly after that, photos began surfacing of Baldwin making out with Justin Bieber all over New York City. By July, Bieber and Baldwin were engaged. The 180-degree turn on Baldwin's part gave Mendes fans whiplash. In perhaps the most mature move of all time, Mendes commented on Baldwin and Bieber's lightning fast relationship, telling Variety, "It's great to see two amazing people get together. If you know them both separately it does make a lot of sense — a little bit of yin and yang." He also says Baldwin is "one of the most beautiful souls" he's ever met. So, I'll just leave you alone with that emotional blob of feelings for a moment...
...
... K.
Now, after managing to navigate the Baldwin/Bieber situation with grace and charm, Mendes is left looking at his own relationship status and evaluating where he's at in his personal life. He told Variety, "I'm not currently dating anyone, but it's not because I don't have time — I don't know if I'd be dating anyone if I was home in Pickering, either." He added, "It hasn't stumbled across me, and I'm not chasing it."
However, like anyone, Mendes isn't immune to "what if?" questions. He continued, "Of course, seeing all those other artists and people in relationships, you think, 'Maybe it would be nice; who would be great for me?' And that's when you realize: 'This is wrong. Let it be. I'm not supposed to be with anyone right now.'"
Guys, why is this 20-year-old babyfaced doll human so much more mature than me?
For now, Mendes has his focus on his relationship with his fans and cultivating a rapport with the die-hards who love him. His manager, Andrew Gertler, spoke over the phone with Variety while he and Mendes were in Europe. Gertler explained,
There are probably 600 fans outside the hotel right now, and he'll stop and take photos and meet almost every single one, to the point where you're like, 'This is crazy!' But he feels like he owes something to them — 'I'll take a minute or 30 minutes to make sure my fans know they're appreciated.'
Somewhere in that crowd must be a person who is right for you, Shawn! I know someone who is always available for a chiseled jaw, the voice of a baby cherub, and the heart of a golden retriever...