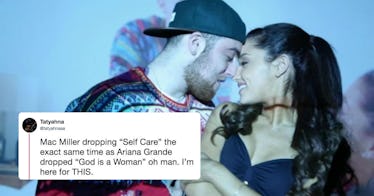 Mac Miller Dropped A New Song At The Same Time As Ariana Grande & Twitter Is Losing It
YouTube
There was a lot of fanfare in the Ariana Grande fandom on Thursday, July 12, as Arianators prepared for their fave to drop her sexy new song "God is a Woman." Well, she dropped the song, and it was every bit as sexy as she and her new fiancé, Pete Davidson, promised, which left fans totally losing their minds. But now, Mac Miller might be taking the wind out of Grande's sails just a tad, as he just dropped his new song "Self Care" off his upcoming album Swimming at the same time. Which begs the question: Is "Self Care" about Ariana Grande?
The timing in itself has everyone and their mom going, hmmm? But beyond that, while the song in its entirety seems to be more about Mac Miller's emotional journey and thoughts about self-care, there are definitely a few lyrics that seem to shed light on his past relationships, and more specifically, his alleged DUI on May 17.
Mac Miller begins "Self Care" by rapping about his emotional state, and every single line seems to have about 9,000 layers of meaning (at least):
I switched the time zone, but what do I know? / Spending nights hitchhikin', where will I go? / I could fly home with my eyes closed / But it be kinda hard to see, that's no surprise though / You can find me, I ain't hiding / I don't move my feet when I be gliding / I just slide in and then I roll out
But things start to get pretty pointed (and pretty interesting) once the first verse starts up. In one line, he raps not being able to trust anyone (including himself) and about someone telling him they love him and nobody else, before he exclaims that he doesn't want to hear that bullsh*t and is going to focus on self-care. The lyrics go,
Yeah, well, climbing over that wall / I remember, yes, I remember, yes, I remember it all / Swear the height be too tall so like September I fall / Down below, now I know that the medicine be on call, yeah / It's feeling like you hot enough to melt, yeah / Can't trust no one, can't even trust yourself yeah / And I love you, I don't love nobody else, yeah / Tell them they can take that bullsh*t elsewhere / Self care, I'm treatin' me right / Hell yea, we're gonna be alright / (We gon' be alright)
Of all the lyrics in "Self Care," these ones seem most likely to be about Miller's ex, Ariana Grande. The last time the couple was seen looking happy together was March 4 in Los Angeles, when they attended a pre-Oscar party together. But by May 10, Ariana had taken to her Instagram story to announce that she and Miller had split amicably, writing:
Hi! This is one of my best friends in the whole world and favorite people on the planet Malcolm McCormick I respect and adore him endlessly and am grateful to have him in my life in and form, at all times regardless of how our relationship changes or what the universe holds for each of us!
Just over a month later, on June 11, reports that Grande was engaged to SNL comedian Pete Davidson erupted after just a few weeks of dating. No matter how amicably Miller and Grande's split was, that news still must have felt like a punch in the gut. So when Miller raps, "Can't trust no one, can't even trust yourself yeah / And I love you, I don't love nobody else, yeah / Tell them they can take that bullsh*t elsewhere," could he be alluding to not being able to trust people when they say they love him because of what happened with Grande?
The most pointed lyric of all comes later in the second verse when Miller seems to address his alleged May 17 DUI. He raps:
That Mercedes drove me crazy, I was speedin' / Somebody save me from myself, yeah
According to a report by TMZ, Miller allegedly knocked over a power pole with his 2016 Mercedes-Benz G-Class in San Fernando Valley while allegedly driving under the influence before allegedly fleeing the scene. Elite Daily reached out to Mac Miller's team previously for comment about the reports, but did not hear back by the time of publication. This line from "Self Care" seems to suggest Miller regrets the situation and knows he needs help to better himself.
Some Miller fans tried to blame Ariana Grande for the reported crash, but the "Dangerous Woman" singer was having NONE. OF. THAT. She took to Instagram to shut haters down and give more insight into what may have led to their split, writing:
How absurd that you minimize female self-respect and self-worth by saying someone should stay in a toxic relationship because he wrote an album about them," she wrote. "I am not a babysitter or a mother and no woman should feel that they need to be. I have cared for him and tried to support his sobriety & prayed for his balance for years (and always will of course) but shaming/blaming women for a man's inability to keep his shit together is a very major problem. let's please stop doing that.
Elite Daily has reached out to Mac Miller's team regarding the claims in Grande's tweet, but did not hear back by the time of publication.
You can watch Mac Miller's "Self Care" music video, which takes place in a creepy coffin, below.
Some Twitter users seem pretty convinced the song is at least in part about Grande:
While this song may seem to address Mac Miller's past with Ariana Grande, it's safe to say it's more about his personal emotional journey than any one specific event. Hopefully, this track was the first step in Mac Miller figuring out how to care for himself.