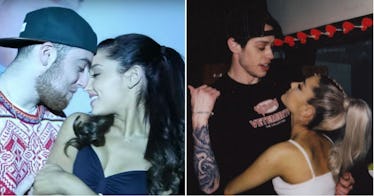 Ariana Grande Shared A Snippet Of Her New Song "Raindrops" & It Could Be About Mac Miller
YouTube; Instagram/PeteDavidson
Another day, another piece of Ariana Grande drama (but who am I kidding, we as a nation are LIVING for it). In case you didn't know, Grande celebrated turning 25 today and gave her fans the present of releasing a preview of her new song, Raindrops" from her album, Sweetener, which is set to drop August 17. But it's clear that this song seems to be about a breakup, making many fans wonder, is "Raindrops" about Mac Miller? Not only does the song seem to be about ending a relationship, but her ex ALSO has a song that constantly references raindrops, too — so, what's going on here?
Let's backtrack for a minute, mkay? On Monday, June 24, Grande took to Twitter to tell her fans that she might be releasing a snippet of her new music for her birthday. Grande has been giving her fans some previews of what to expect off of her new album, and TBH, I don't hate it.
She wrote,
i know we're not really doing snippets but i do wanna give u sum special for my birthday if that's ok …. might post it tonight . i promise this'll be the last of it
UM, YES PLEASE.
So on June 25, Grande posted a clip to Instagram of her newest song, "Raindrops." In the clip, we see Grande looking as if she's upside down (just like "No Tears Left to Cry," so I'm clearly seeing a pattern here), only for the camera to pan out and reveal that Grande is sitting in the middle of a frighteningly large staircase. From what we heard on the clip, "Raindrops" seems to be about a breakup. The lyrics go:
When raindrops fell down from the sky, The day you left me, an angel cried, Oh, she cried, an angel cried, She cried
And, of course, Grande sings the few lyrics phenomenally, but did we even doubt that? The answer, obviously, is no. No, we did not.
But here's the thing, fam. Mac Miller has quite a few lyrics in his musical arsenal that also reference raindrops. Some of his songs, like "REMember," "The End Is Near," and "Love Affair" use the word many times over, and several Mac Miller fans have taken to Twitter to express their love for his lyrics throughout the years:
I mean it's clear that the dude has an affinity for raindrops. I get it, raindrops are pretty lovely, so no real questioning from me. But I wonder if Ariana Grande used this term to relate back to her time dating Mac Miller.
It was a tough pill to swallow when it was revealed that the couple had split in early May, according to TMZ. The outlet noted that Grande and Miller decided to split amicably and that they would remain "the closest of friends."
With many fans shocked and saddened to hear the news, Ariana Grande took to her Instagram story and told her fans the rapper had her unwavering support for Miller, despite their separation. She wrote,
Hi! This is one of my best friends in the whole world and favorite people on the planet Malcolm McCormick I respect and adore him endlessly and am grateful to have him in my life in and form, at all times regardless of how our relationship changes or what the universe holds for each of us!
But the idea of an amicable breakup was seemingly short-lived, considering Ariana Grande and Mac Miller unfollowed each other just days after the news. Making things worse, when fans accused Grande of causing Mac Miller's DUI by supposedly having "dumped him for another dude." As the whole world knows (unless you've been living under a rock), shortly after Grande's split from Mac Miller, the world was introduced to the incredibly quick romance of Ariana Grande and Pete Davidson's engagement, and things have not exactly slowed down for Miss Grande since.
Well, Grande clapped back hard at fans who dared blame her for Mac Miller's actions, giving insight into the little-known troubles that plagued their relationship. "I am not a babysitter or a mother and no woman should feel that they need to be," she wrote on Twitter. "I have cared for [Mac] and tried to support his sobriety & prayed for his balance for years (and always will of course) but shaming/blaming women for a man's inability to keep his sh*t together is a very major problem." Elite Daily previously reached out to Mac Miller's team for comment on Grande's claims, but did not hear back by the time of publication.
Based on Grande's recount of her relationship with Mac, it's unlikely she was the one dumped, right? Which means the line from "Raindrops" that says, "The day you left me," may hint that the song is not about Mac Miller, since it alludes to her being the one dumped.
So, is "Raindrops" really alluding to Mac Miller? Or is it just purely a coincidence? Only Ariana herself knows. So fill us in, girl!