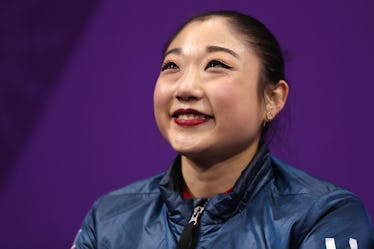 Mirai Nagasu's Insta Story Proves She's Geared Up For The Closing Ceremony
Maddie Meyer/Getty Images Sport/Getty Images
I know, I know. It's a bummer that the 2018 Winter Olympics are finally coming to an end. After watching athletes from all over the world perform in events that most humans can only dream of doing, the end of Winter Olympics is here, and PyeongChang will commemorate the entire journey with their closing ceremony on Sunday, Feb. 25. Many people are wondering which Olympians will be attending — especially Mirai Nagasu, who made history as the first American woman to land a triple axel during the Winter Olympics. So, is Mirai Nagasu at the 2018 Olympics closing ceremony?
Fans will be happy to know that Mirai Nagasu is at the closing ceremony alongside Team USA, and a screenshot from her Instagram story shows it. The still shows Nagasu decked out in the closing ceremony outfit alongside teammate Karen Chen, who also competed in figure skating.
Nagasu's journey to the 2018 Olympics was not an easy one. She was not selected for the 2014 Sochi Winter Games, but that only made Nagasu more determined to be selected for 2018. And that determination totally paid off when Nagasu completed the triple axel — one of the most difficult moves in figure skating that involves three-and-a-half rotations in the air — during her routine on Feb. 11, making history and proving to many that, with practice and ambition, accomplishing your goals is possible.
In her interview with NBC after this historic routine, she spoke about the nerves she felt going into her performance. She said,
To nail that triple axel, I tripped a couple of times going into it because I was so nervous, but I had to tell myself, 'no I'm gonna go for it, 100 percent, and not pull back.'
And, on Feb. 20, Nagasu wowed the crowd once more in the individual competition, which included her short program, skating to Chopin's "Nocturne in C-Sharp Minor." Despite her flawed triple axel in the individual competition, she still had a fantastic performance and ended up scoring a 66.93, landing her at ninth place.
Fans celebrated her solo competition, paying no mind to the tiny fall:
Then, on Friday, Feb. 23 (which meant Thursday evening in the U.S.), Nagasu had a less-than-favorable performance for her free skate — failing to land her triple axel again and missing one other jump in her routine — which many thought would show a disappointed Nagasu after coming off the ice. But Nagasu came out of the rink with a huge smile on her face even after hearing her score, which landed her in 10th place at the 2018 Winter Olympics individual figure skating competition.
Nagasu took to Twitter after her performance and explained why she was grinning from ear-to-ear, despite her routine not going as well as she intended. She wrote,
I wanted to nail another triple axel on Olympic ice but unfortunately I didn't even get a chance to when I hit a rut in the ice. Sometimes you just have to take it all in with a smile on your face.
She also tweeted that, despite the flaws in her routine, she's still "overwhelmingly happy" and "grateful" to the Olympics. She said,
Even with the flaws, I enjoyed my Olympic performances and have been overwhelmingly happy with the support I've received from everyone. I'm grateful to the @olympics for bringing my family together to watch me compete and that my grandma made a surprise visit as well!
A small life lesson from Mirai Nagasu: When life throws you lemons, put those lemons on ice (skates) and make some damn lemonade.
Proving that she's even more humble than we thought possible, Nagasu spoke with The Washington Post, explaining that making it to the Olympics "is the hard part," so in a way, she's already won.
Nagasu said, "My focus has been a little bit too much about the medals," adding, "When I didn't land my triple axel in the short [program], my mom told me, 'Who cares if you get last place? This is the Olympics. Making it is the hard part.'"
Mirai, I think I can say on behalf of all of America that you made us all proud. Congratulations are in order for you and the entire Team USA!