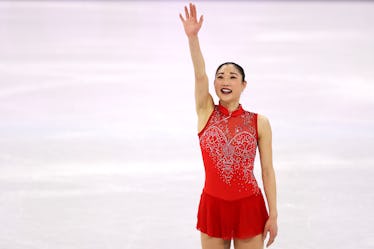 I Can't Stop Watching This Video Of Mirai Nagasu's Amazing Short Program
Maddie Meyer/Getty Images Sport/Getty Images
Mirai Nagasu became an instant fan favorite of the 2018 PyeongChang Winter Olympics when she became the first American woman to successfully land a triple axel at the Olympics. I personally watched the video of her triple axel at least 15 times on repeat because it was that mesmerizing. Now, the 24-year-old figure skater has competed in the short program figure skating Olympic event and she has stolen the hearts of people on the internet all over again. The video of Mirai Nagasu's short program at the Olympics is ambitious and amazing, and I can't stop watching it.
Nagasu skated to Chopin's "Nocturne in C-Sharp Minor," and absolutely slayed. Despite a stumble on her first jump, an ambitious triple axel, she got back up and recovered quickly. The rest of her program showed the athleticism and grace that Nagasu is known for, and she turned it out like the champion she is. Of the lone big fault — well, I don't think anyone not currently in an ice-skating arena has the right to fault her for not landing one of the most ambitious jumps in skating.
Hey, even the people in the arena — that is, the judges — didn't fault her too hard. She ended up scoring a 66.93, a season's best which put her in second place in the competition as of her run, behind Japanese skater Kaori Sakamoto and ahead of fellow American Bradie Tennell. There are still more skaters scheduled to compete, though, so we'll see where her 66.93 lands her at the end of the night.
After Nagasu became the first American woman to successfully complete a triple axel at the Winter Olympics, she told The New York Times, "Four years ago when I was left off the team, I wanted to make another Olympic team, and I knew I would really have to be something special. So to become the first to land a triple axel at the Olympic Games is historical, and no one can take that away from me."
And no one can take this amazing short program performance away from her, either!
Fans were losing it over Nagasu's stunning performance.
Flaws and all.
Nagasu talked about the moments leading up to the triple axel with The Associated Press, saying that after she landed it, she could see her teammates' reactions in the stands. "I feel really great. Going into it, I was like a train and I was like, 'Get on the tracks and get some speed,'" she said. She continued,
And, I tripped a couple times. I don't know if you could tell. It was more something I could feel, but to nail it the way I did, even out of the corner of my eye, I could see my teammates standing out of excitement. And at that moment, I wanted to stop the music and get off, but I still had my whole program ahead of me.
And while we're talking about Nagasu, can we also talk about her friendship with teammate Adam Rippon? I think we should. Mirai Nagasu and Adam Rippon are basically owning the 2018 PyeongChang Winter Olympics.
Their friendship is something everyone is stanning now, especially after hearing the story of them getting In-N-Out burgers together after not making the 2014 Olympic team.
We stan legends, people. Legends!!!
Erin Jackson is an inline skating world medalist and roller derby MVP. She dreamed of skating in the Olympics, but to do that, she had to get on ice. She took her first steps on a long-track course in 2016 and started training professionally in September 2017. Four months later, she qualified for the Olympic Winter Games. Check out Elite Daily Insights' video on Jackson's incredible story:
To learn more, visit teamusa.org. The Winter Olympics will air live starting February 8.