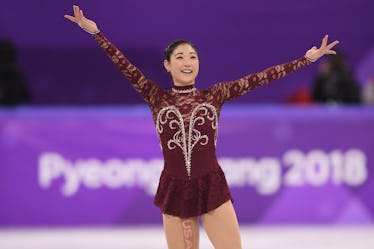 Mirai Nagasu Brought It Hard For The Figure Skating Final & Twitter Is So Proud
Harry How/Getty Images Sport/Getty Images
When I close my eyes at night, I imagine myself gliding on the ice rink in front of millions of people and viewers at home. I wonder if when Olympic figure-skater, Mirai Nagasu, closes her eyes at night she imagines herself in my position eating Cheetos on a couch watching reruns of Say Yes To The Dress. She's had an incredible journey in the 2018 Winter Games in PyeongChang, South Korea, and the tweets about Mirai Nagasu's free skate shows that fans are just super proud.
Nagasu is a different breed of Olympic athlete. While all of the women competing on the USA figure-skating team are incredible, there is one thing that sets Nagasu apart. She's there to attempt the legendary and allusive triple axle, a jump only two other US women have ever successfully pulled off. Their names are Tonya Harding (have you heard of her?) and Kimmie Meissner.
Even if you don't know much about figure skating or the Olympics, you likely know a triple axel is a big deal. It's, like, one of the only pieces of sports-lingo I confidently throw around. According to NBCOlympics.com, here's what makes a triple axel so tricky: It is the only forward-facing jump in figure-skating, and requires an extreme amount of force. Based on NBC's description, a skater must take off from a forward outside edge of their foot and rotate three-and-a-half times in the air before landing on the back outside edge on their opposite foot.
If you can't imagine the difficulty level yet, consider how many points it gives a competitor if they pull it off correctly. A double axel is worth 3.3 points, while a triple axel is 8.5 points. That's a HUGE difference when you're competing for the number one spot in the whole world.
It also looks a little something like this:
During Nagasu's short program on Wednesday, Feb. 21, she missed it. Despite having successfully accomplished the jump many times before, during her short skate, she landed on her hands and knees. It put her in ninth place with a score of 66.93 going into Friday's free skate. USA Today reports Nagasu said,
There is just something about adrenaline and nerve. Even the best skaters make mistakes. I like to think I am one of the best, but I made a little tiny error. I am the only woman going for it in this competition so that should put it in perspective.
This time in the free skate, she missed her first jumps again, leading to the dashing of her medal hopes. However, the American champ still came back for an intense and awesome finish.
And fans were just super proud.
To complete the jump, every little thing had to be considered, right down to her costume. Pat Pearsall, Nagasu's costume designer, told NBCOlympics.com,
We are keeping in mind the weight of the stones, the weight of the dress, and something that people never think about is the weight of the glue. That is a consideration in her dresses probably from this point forward.
Her efforts didn't quite pay off — but they weren't for nothing.
Nagasu took a free skate score of 119.61, which combined with her short program score of 66.93, was good enough to put her in fourth place as of the end of her routine.
With all of her accomplishments and determination, Nagasu is one of USA's most motivational and inspirational athletes competing this year. It's been an absolute blast watching her journey.
Erin Jackson is an inline skating world medalist and roller derby MVP. She dreamed of skating in the Olympics, but to do that, she had to get on ice. She took her first steps on a long-track course in 2016 and started training professionally in September 2017. Four months later, she qualified for the Olympic Winter Games. Check out Elite Daily Insights' video on Jackson's incredible story: