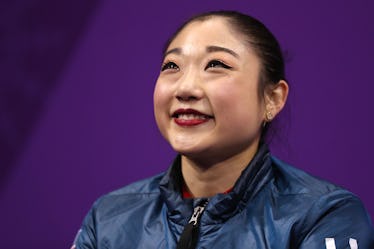 Mirai Nagasu Tweeted About Not Winning At The Olympics & It's Actually So Uplifting
Maddie Meyer/Getty Images Sport/Getty Images
On Friday, Feb. 23 (Thursday night in the U.S.), American figure skater Mirai Nagasu did not have the skate she wanted during the final day of individual competition at the 2018 PyeongChang Olympics. But rather than letting disappointment take over, Nagasu slid off the ice with a huge smile on her face, which stayed on as her less-than-stellar score came in. Hours later, Mirai Nagasu tweeted about the Olympics, explaining the grin and discussing what these competitions are really about.
Nagasu's time at the Olympics in the individual competition clearly did not go as one would hope. The 24-year-old was coming in with a triple axel, aiming to be the first American woman to land it during the Olympics. And, indeed, she achieved that last week during the team competition, landing the triple axel during her free skate beautifully. The ice was less smooth during the individual competition this week in PyeongChang. Nagasu failed to land her newly-signature jump.
During the free skate on Friday (Thursday night in the U.S.), she set up for the triple axel, but couldn't quite get the air needed and flubbed it. She went on to miss one more jump in the same way. It was a real bummer of a moment for viewers, but Nagasu didn't seem too upset.
As she awaited her score, she was beaming. Ultimately, Nagasu ended the day in 10th place in the PyeongChang Olympics individual figure skating competition.
Hours later (early Friday morning, U.S. time), Nagasu took to Twitter to discuss the performance.
"Today wasn't quite the performance I was going for but I have such a newfound respect for the Olympians all around me," Nagasu told her Twitter followers. "It takes a huge level of mental strength to persevere during these three weeks, especially when your event is one of the last ones to go."
She went on to explain that during the 2010 Winter Olympics, which were in Vancouver, Canada, she was able to travel home between the opening ceremony and her competition, since Vancouver was close to her California home. "Although I love Korea, there is nothing like home in the USA," she tweeted, indicating that being able to go home helped her competitively as she could preserve mental strength.
Nagasu addressed her free skate performance specifically in her tweets on Friday morning. "I wanted to nail another triple axel on Olympic ice but unfortunately I didn't even get a chance to when I hit a rut in the ice," she wrote on Twitter. "Sometimes you just have to take it all in with a smile on your face."
The skater concluded her post-competition tweets on a positive note, just as she ended her competition with a smile. "Even with the flaws, I enjoyed my Olympic performances and have been overwhelmingly happy with the support I've received from everyone," she wrote. Nagasu added that she's "grateful" that the Olympics helped to bring her family together to watch her compete — and she even had a "surprise visit" from her grandmother.
It may have been the family support that helped Nagasu stay so positive in the face of the immense pressure she was under. "When I didn't land my triple axel in the short [program], my mom told me, 'Who cares if you get last place? This is the Olympics. Making it is the hard part,'" Nagasu told The Washington Post. Indeed, Nagasu has had a tough history with making it to the Olympics. In 2014, she placed third in the U.S. championships the month before the Sochi Olympics, but U.S. Figure Skating chose to bump her out of the Olympic team and instead put Ashley Wagner, who came in fourth in the national competition, on the competing team. Truly, it was an effort for Nagasu to make it to PyeongChang, and that's an accomplishment to celebrate.
And Nagasu is still leaving South Korea with a shiny, new medal, since she helped the U.S. team win the bronze in the team competition with her free skate — and that historic triple axel. That's certainly something to smile about.