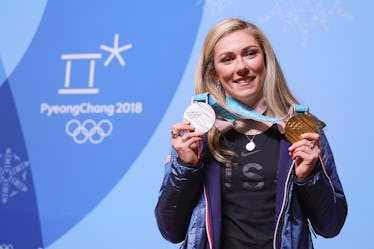 Mikaela Shiffrin Wished The Olympics Farewell Before The Closing Ceremony
Andreas Rentz/Getty Images Sport/Getty Images
It's been a blast following the journeys of athletes like Adam Rippon and Mirai Nagasu as they competed for gold during the 2018 Olympic Games. Their posts have just been filled with so much hope and excitement and enthusiasm that I legit couldn't wait to see what they would share next. Even so, I totally get why competitors like Mikaela Shiffrin chose to stay away from social media during their time in PyeongChang. In fact, the skier kept such a low profile that I can't help but wonder, is Mikaela Shiffrin at the 2018 Olympics closing ceremony?
The closing ceremony took place on Sunday, Feb. 25. About 10 hours before the event began, Shiffrin took to Instagram to say goodbye to the Olympic Games. She posted a picture of herself waving along with a long caption dedicated to the "mind-boggling, incredible, whirlwind" experience. She wrote, "With moments of victory, moments of *defeat*, and everything in between, I'm walking away with a huge smile!" Shiffrin added a list of thank you's to the people who helped her along, including South Korea as a host, the organizers, her teammates on Team USA, and her friends and family.
"For making my dreams a reality. For inspiring me to work harder and harder everyday because it's so easy to do when you are right beside me. Just. Thank you," she wrote. Shiffrin ended her post with a simple "K. Bye!"
Shiffrin also posted a picture of herself to her Instagram story with her medals on a plane, saying, "Don't blame me for any turbulence.. first time pilot over here!"
The 2017 World Cup champion certainly has plenty to celebrate. She'll be bringing home TWO medals from South Korea: the gold, which she won for the giant slalom, and the silver medal that she copped for the alpine combined competition, which includes both a downhill and a slalom. SO major! With the silver, Shiffrin became the fourth American to win at least three Olympic alpine ski medals, according to NBC. The others are Julia Mancuso, who won four, Bode Miller, who won six and served as an analyst this year, and Lindsey Vonn, who won her third medal at PyeongChang.
Of course, Vonn — who scored the bronze in downhill — was also competing in PyeongChang, and Twitter was only too happy to hype up the rivalry between the two women. And that's probably part of the reason Shiffrin decided to 86 social media during competition.
"Every word you say, every tweet you make is put under the microscope," she explained to CNBC. "You can't just, like, blow off a tweet and expect it to be fine. People are actually looking at that and reading into it. I actually just stepped away from my social media for the entire time I was competing. So I wasn't seeing comments. I wasn't reading anything. Because for me, that does add a certain amount of stress."
Totally get it. Shiffrin went on to explain that even when she had to make exceptions in order to keep up commitments to her sponsors, she simply chose a picture, wrote her caption, and then sent it off to her manager to post. Looks like the move paid off big time, Mikaela, so well done! Also, is your manager interested in a little side hustle? Because I'd really like to have someone take over all of my posting duties so just think about it and LMK.
Of course, now that the hard part is all over and Shiffrin can sit back and relax for awhile, the Olympic star is back on social media with a hilarious vengeance. "Basically, for the last three weeks, I haven't even gone on [social media] until yesterday after winning the silver," she told CNBC. "[I] went on my Instagram, Twitter, and Facebook and started to catch up on things that I've been missing and posts. I started posting like wild."
She even retweeted a tweet from Today about the fact that her teammate Jessie Diggins was selected as the United States' flag bearer for the closing ceremony.
I just love her!
The theme for the ceremony this year is Next Wave, so it has a sort of festival vibe. Popular K-Pop boy band EXO and singer CL are both performing, and sassy Olympic darlings Tara Lipinski and Johnny Weir — perhaps the number one reason to tune into NBC's coverage of the 2018 Winter Games — are on hosting duty. Fans on Twitter were totally here for it when NBC first made the surprise announcement that the pair had landed the gig.
My thoughts exactly. Can't wait to see the glitzy commentators — and, hopefully, Shiffrin — back at it in 2022!