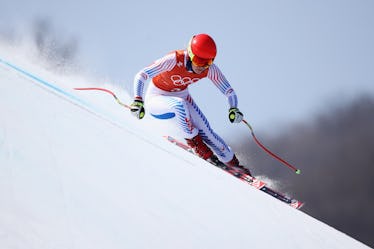 Results Of The Alpine Skiing Women's Combined Are In, So You Better Brace Yourself
Ezra Shaw/Getty Images Sport/Getty Images
There were so many exciting things to look forward to in the Alpine Skiing Women's Combined competition: It was Lindsey Vonn's last competition of the 2018 PyeongChang Games, and perhaps her last Olympic run ever. She competed against fellow ski star and 2017 World Cup champion, Mikaela Shiffrin. Plus, the combined competition was like the ultimate test of athlete's speed and technique. After a long wait, the results of the alpine skiing women's combined competition are finally here, and you better brace yourself.
The alpine combined competition, which includes both a downhill and a slalom, occurred on Thursday, Feb. 22, in PyeongChang, South Korea. Michelle Gisin, a Swiss alpine skier, took home the gold medal after finishing in 2 minutes and 20.90 seconds. Mikaela Shiffrin, on the other hand, didn't win the entire competition — but she won the silver medal with a total time that was .97 seconds less than Gisin's, according to ESPN. Wendy Holdener of Switzerland took the bronze with a final time that was 1.44 seconds less than Shiffrin's.
The competition comes just two days after Shiffrin, a renowned contender, dropped out of the downhill. On Feb. 19, the skier announced that she'd dropped out due to scheduling conflicts. In a statement per Team USA, Shriffin said,
As much as I wanted to compete in the Olympic downhill, with the schedule change, it's important for me to focus my energy on preparing for the combined. I'm looking forward to cheering on our girls racing in the downhill and to compete myself in Thursday's combined.
Due to a weather forecast that included strong winds on Friday, the combined competition was brought up to Thursday — just a day after the downhill event. If Shiffrin chose to compete in the downhill, she would have been forced to compete two days in a row, which doesn't always pan out for Olympic athletes. So it seems like a pretty wise decision that definitely paid off.
There were great contenders in the combined event.
Vonn, an Olympic gold medalist, also participated in the combined event. Though Shriffin was a no-show in the downhill competition, Vonn competed and took home a bronze medal, coming just a few seconds behind the top two skiers. The PyeongChang Games was seen as her big comeback to sports after suffering a massive injury that prevented her from performing in the 2014 Winter Olympics. Regardless of the outcome from the combined competition, I'm glad she ranked among the top athletes.
As far as Shiffrin's other wins, the 22-year-old claimed first place in giant slalom on Wednesday, Feb. 14. When speaking about her win, the skier said she was just glad that her "best effort" was good enough. According to Team USA's website, she said,
It was an amazing feeling. My best effort is good enough. It was good enough today, and I have an Olympic gold in giant slalom. It was my 15 seconds to let it all out.
She also said she listened to her mom after hearing some words of encouragement. She added,
I was watching all these girls go down in the second run and attacking. Everyone wants gold. Everybody is skiing to win. It kind of left me no choice but to do the same thing. I'm really happy with how that worked.
I'm happy to see how it worked, too. Doesn't Mama always know best?
Twitter users expressed their excitement over her silver medal win.
Shiffrin has an undeniable legacy.
Between 2013 and 2017, she's ranked among the top spots at the International Ski Federation (FIS) World Cup Standings, and in 2017, Shiffrin became the first woman to win three consecutive slalom world titles in 78 years. That said, there's no telling where this Olympic starlet will go next.