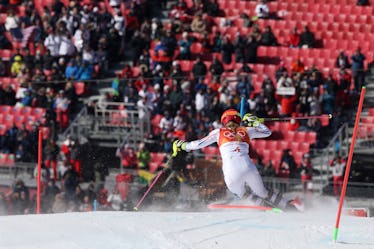 Lindsey Vonn Has One Fewer Competitor To Worry About In The Downhill Competition
Christophe Pallot/Agence Zoom/Getty Images Sport/Getty Images
The United States is now down a downhill skier at the 2018 PyeongChang Winter Olympics. On Monday, Feb. 19, one U.S. gold medalist announced she would not be participating in the upcoming race on Wednesday. Why Mikaela Shiffrin withdrew from the downhill event has to do with scheduling. She's still slated to compete in the combined event on Thursday.
"As much as I wanted to compete in the Olympic downhill, with the schedule change, it's important for me to focus my energy on preparing for the combined," Shiffrin said in a statement per Team USA. "I'm looking forward to cheering on our girls racing in the downhill and to compete myself in Thursday's combined."
Per ESPN, race officials moved the combined event up a day to Thursday, citing a bad weather forecast for Friday. Given that the downhill race was slated for Wednesday, Shiffrin would have had to compete two days in a row, something that, as we've already seen thus far in the Olympic Games, doesn't always bode well for athletes.
While the news of her backing out might come as a disappointment for Team USA and its fans, it doesn't necessarily mean bad news for Shiffrin, whose record so far is pretty impressive. The 22-year-old has already clinched 41 career wins as of writing, per USA Today, putting her second behind USA teammate Lindsey Vonn. And the decision to sit out the downhill event might even give Shiffrin a better shot at a second gold this games.
On Wednesday, Feb. 14, Shiffrin took first in giant slalom, marking her second gold medal after becoming the youngest athlete to win a slalom gold at the 2014 Sochi Winter Olympics. But the next day, her luck turned. On Feb. 15, just hours after winning gold, she failed to secure a medal in slalom, her signature event.
According to the The New York Times, high wind speeds have caused officials to push three events to different time slots, creating a compressed alpine ski schedule. The timing of the back-to-back events may have contributed to Shiffrin's less-than-stellar performance last week, says Eileen Shiffrin, Mikaela's mother and coach.
"At the Olympics, there's a reason why there's a day off between the races," Shiffrin said, per The Times. "For the medal winners, that day is a long, stressful and exciting day, but it is exhausting. It took its toll on Mikaela."
In fact, this is the second event Shiffrin has backed out of this Olympic Games. On Thursday, Feb. 15, the same day as the slalom, Eileen also announced that Mikaela had backed out of skiing the super-G, again due to the tight scheduling following two races being postponed. This means that, in all, Shiffrin will have competed in only three of the five Olympic events she originally planned.
"She will have raced and trained — or tried to race — for six days in a row," Eileen Shiffrin said per USA Today. "She has to have a day off."
But Mikaela, who's got the heart of a champ, seemed to be taking it in stride. "Wishing our girls good luck in the Super-G today!" wrote Shiffrin in a Feb. 16 tweet. "Cross your fingers that the wind dies down for a fair race!!"
The elimination of Shiffrin from the downhill race means that Vonn won't have to compete against her own teammate — and has a better chance at a victory herself. Vonn is looking for a win after a major upset in the super-G on Saturday, Feb. 17, finishing in sixth place. The 33-year-old has said that this Olympics — her first in eight years — will be her last.
Shiffrin, for her part, will use the day off of racing to focus her energy on the Thursday event, her last shot at a medal this Olympic season. According to Team USA, she's only competed twice in combined world cup events.
Shiffrin's exit from the event opens up a place for another U.S. racer to compete, per ESPN. The updated roster is slated to be unveiled on Tuesday.