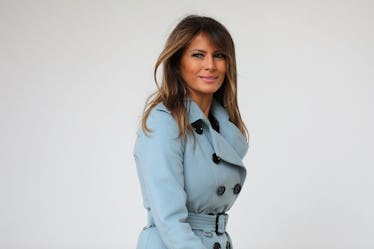 Melania Trump Could Have A Big Role To Play In The Stormy Daniels Legal Drama
Chip Somodevilla/Getty Images News/Getty Images
Melania Trump really has had it rough over the past few months, and I feel for her. As the Trump administration continues to battle through all the drama happening in the White House, I'm personally wondering if the first lady has any input into the matter. So, is Melania Trump connected to the Stormy Daniels case? She might be more of a key figure than we think.
According to an April 11 report from Business Insider, Melania Trump could play a vital role in the FBI's investigation of Donald Trump's personal lawyer, Michael Cohen. How so, might you ask? Well, this report says it's possible that Melania could be used as a defense against accusations that Cohen's $130,000 payment to Stormy Daniels shortly before the 2016 presidential election violated campaign finance laws. Cohen could potentially claim that the payments were made in order to prevent Melania from knowing about the alleged affair and protect her from embarrassment and public humiliation — instead of in order to protect Donald Trump from scandal during the campaign. Donald Trump has denied having an affair with Daniels, as well as knowing about Cohen's payments to her, but some experts have speculated that if it was meant to protect Trump ahead of the election the payment could qualify as an illegal campaign finance contribution, as it's more than $120,000 over the limit for an individual to donate.
Legal expert Paul S. Ryan, the vice president of policy and litigation at Common Cause, spoke to Business Insider about the possible argument and noted that the weakness would be the timing of the payment. Even though the alleged affair happened in 2006, the payment to Daniels came nearly a decade later, the week before the 2016 election.
Ryan said,
With Stormy, [the payments] happened more than a decade after the affair took place. Further investigation may undercut any argument by Michael Cohen that this payment wasn't about keeping the information from voters but to keep the information from Melania. We'll see about that. It seems unlikely given the decade lapse in time. I think to the extent that Cohen argues this was about keeping the information from Melania, then what Melania knew and when she knew it will certainly be relevant.
So even though this could be a convincing argument on the surface, the proximity to the 2016 election is going to be something that's difficult to look past — and a lot will depend on what Melania knew (or didn't).
Things are clearly heating up already. On April 9, the FBI raided Cohen's office and residence in search of evidence related to an investigation into his business dealings and finances. During the raid, The New York Times reported that the FBI seized documents related to the ongoing battle with Daniels, as well as information relating to payments made to another woman, Karen McDougal, who also claims she had an affair with Trump around the same time. This is getting pretty serious, people, and if Melania gets involved than who knows what will happen.
It's still unclear about whether Melania had any knowledge of the alleged affair or the payments to Daniels, but Business Insider points out that there's another case that may hint at what's in the future, and that's the case against former North Carolina Sen. John Edwards. In 2008 Edwards, who was a Democratic candidate for president, was discovered having an affair with Rielle Hunter and paying her off via contributions from wealthy donors. Edwards was prosecuted on six counts, but a hung jury resulted in a mistrial on five counts and the case was not brought forward again (Edwards was acquitted on the sixth). Edwards' lawyer claimed that the payments weren't to hide the affair from the public, but in order to hide it from Edwards' very sick wife.
In the Stormy Daniels case, though, the public has definitely been hearing all about it. Since The Washington Post reported in January that Cohen had paid Daniels $130,000 for her silence, which Cohen eventually admitted to in February, the pornographic actress has been speaking out about the alleged affair. In fact, on March 25, Daniels appeared on 60 Minutes with Anderson Cooper to give us all the inside scoop, and it revealed so much. In the interview, Daniels not only described the alleged sexual encounter, but also threw in a few details that left us all in shock. What are those? Well, allegedly Trump told Daniels that she reminded him of his daughter Ivanka Trump, and Daniels spanked Trump with a magazine with his face on the cover.
I have such a love-hate relationship with that interview I still don't know where I stand nearly a month later.
Who knows whether Melania has any knowledge of the case or investigation, but if she does she could possibly spill the tea of the century.
In the meantime, I'll be on the edge of my seat.