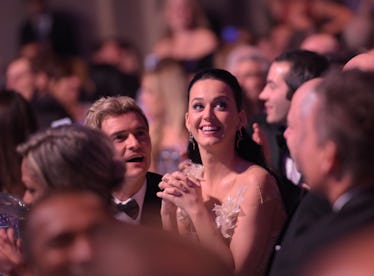 Katy Perry Flew To London To See Orlando Bloom & I'm Freaking Out
Jason Kempin/Getty Images Entertainment/Getty Images
Things are heating up between Katy Perry and Orlando Bloom, and at this point I'm convinced that they're totally meant to be together. While the hot and cold pair has kept us guessing about their relationship status over the past couple months, the "Roar" songstress just made a big romantic gesture to her on-off bae that has fans freaking out. So, is Katy Perry single, or have these exes reconciled? From the looks of it, it appears like these lovebirds are back together and stronger than ever.
OK, so it's no secret that the former couple has been hanging out a lot since they reportedly broke up back in March 2017. While I loved them when they were officially together, naked paddleboarding and all, I didn't want to get my hopes up just because they were allegedly talking "all the time" and spending time together, according to E! News. Maybe they were just friendly exes. Maybe it was just a casual fling.
Everything changed, though, when Perry confirmed that she is off the market on the Monday, May 21 finale of American Idol, per People. Suddenly, I started honing into their every interaction, like her recent getaways to Japan and Rome, including a special audience with Pope Francis, with the Lord of the Rings actor. There was that Orlando Bloom onesie she was seen sporting in Chile, rumored to be a present from his mom. If that's not true romance, I don't know what is, and after a tough year of celebrity break-ups, a reconciliation is what we all need to believe in love again. Luckily for us, Perry is leaving little doubt that she's back together with Bloom with her latest gesture, and it's giving me all the feelings.
According to People, the American Idol judge took a quick trip across the pond to go see Bloom perform in the West End revival of Killer Joe in London. If I had any doubt of her feelings, Perry further tugged at my heartstrings by taking to her Instagram Story to share a shot of the playbill, where a bunch of heart stickers are placed above Bloom's photo.
The reconciliation rumors have been swirling for some time now. Let's look at the facts. Just last month, People reported via a source that the pair are now dating exclusively after their trip to Rome. "They are both excited about it and don't want to hide, but at the same time they are trying to keep privacy as well," the insider said. "It's obvious that they both missed each other after their split."
Also in April, the "Bon Appetit" songstress reportedly revealed that she's in a relationship during an interview with Entertainment Tonight. "I have been spoken for, and speak for myself," she told the program. "And I'm very happy!"
Then on May 21, the pop star confirmed that she's no longer single while jokingly professing her love for The Bachelorette's Becca Kufrin, according to E! News. After the reality star teased Perry that she'd give her all her roses, Perry responded, "I'm not single but I still like you." OK, so Perry still hasn't officially revealed who the lucky man is, but I think we all have a pretty good idea who that person is.
Elite Daily reached out to both Perry and Bloom's reps for comment, but didn't hear back by the time of publication. While it sounds like they're keeping their rekindled romance on the DL for now, Bloom made no secret of his feelings for Perry in an April interview with U.K. newspaper The Times, per People.
"I have a lot of respect for her and a lot of deep feeling. So we will see," he told the publication after gushing about their "really remarkable connection." Aw. Could they just make it Instagram official already?