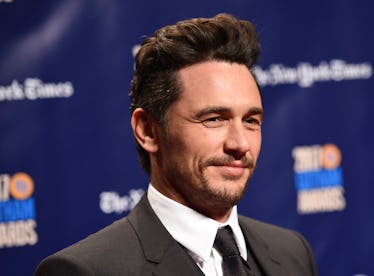 Fans Are Wondering If James Franco Is At The Oscars & Here's What We Know
Dimitrios Kambouris/Getty Images Entertainment/Getty Images
The Academy Awards are always a memorable event for Hollywood. As one of — if not the — biggest nights in film, actors and actresses from all different genres are always guaranteed to be gracing the red carpet to celebrate this industry. So, this begs the question, is James Franco at the Oscars? He's been MIA from most of the recent awards shows.
As the latest awards ceremony crept closer, it looked unlikely that Franco would be gracing the 2018 Academy Awards, especially since his film The Disaster Artist didn't land any nominations this year. As of about 7:30 p.m. ET, he was a no-show on the red carpet. While the older Franco brother may have won himself the award for Best Actor in a Musical or Comedy during the 2018 Golden Globes for The Disaster Artist, apparently his performance wasn't good enough to land him an Oscar nom this time around.
It's still unclear as to why exactly Franco wasn't nominated for an award during Hollywood's biggest night. But allegations of sexual misconduct leveled against him have followed the actor for the past few weeks.
Following the 2018 Golden Globes Awards, which focused on putting a spotlight on gender equality movement Time's Up, it was Franco's win and wearing of a Time's Up pin that drew many to speak about his history of sexual assault allegations, and to call him out for supporting the Time's Up movement. After the Jan. 8 awards show, two women came forward on Twitter with allegations of misconduct, which Franco denies. Actress Violet Paley alleged on Twitter that Franco had attempted to pressure her into sexual activity in a cab, and another woman named Sarah Tither-Kaplan alleged that Franco had pressured her into appearing nude in two of his films.
Franco has denied the allegations. In an interview with Stephen Colbert on The Late Show, Franco said that though the allegations against him on Twitter were "not accurate," he still supported the Time's Up movement.
He said,
In my life, I pride myself on taking responsibility for things that I've done. I have to do that to maintain my well-being ... I do it whenever I know that there's something wrong or needs to be changed. I make it a point to do it ... The things that I heard were on Twitter are not accurate, but I completely support people coming out and being able to have a voice, because they didn't have a voice for so long ... So I don't want to shut them down in any way. I think it's a good thing and I support it. I can't live if there's restitution to be made. I will make it. So, if I've done something wrong, I will fix it. I have to ... That's how that works. I don't know what else to do.
The "friend" Paley referred to is a nod to a scandal where Franco allegedly took part in an inappropriate encounter with a 17-year old girl via Instagram in 2014, when he asked her to come to his hotel room.
Franco addressed the occurrence during an interview with Live With Kelly and Michael.
He said,
I didn't want to come on the show and... feel awkward, so uh, yeah. I mean I guess, you know, I'm embarrassed, and I guess I'm just a model of, you know, how social media is tricky. It's a way people meet each other today. But what I've learned I guess just because I'm new to it is like, you don't know who's on the other end. You meet somebody in person and you get a feel for them but you don't know who you're talking to, and, you know? So I used bad judgment. I learned my lesson.
Since then, a handful of other women have accused Franco of sexual assault, including past USC film students of Franco, Hilary Dusome and Natalie Chmiel. Franco's lawyer "disputed" the allegations, which were published by the Los Angeles Times, but did not offer additional comment beyond Franco's statement on The Late Show.
Since these allegations surfaced, Franco has been keeping it very under the radar concerning public appearances. He opted not to attend the Critics' Choice Awards on Jan. 11, despite winning Best Actor in a Comedy for Disaster Artist. He apparently was spotted attending the SAG Awards ceremony on Jan. 21, but was not seen on the red carpet leading up to the event. With the Oscars wrapping up the 2018 awards season, it seems that this is another show he decided to skip in light of the controversy.