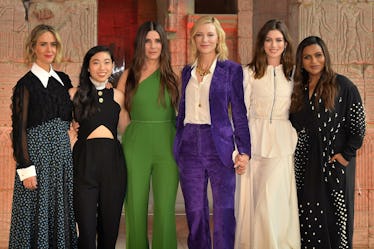 Fans Are Desperate To Know If This Major Character Will Have A Cameo In 'Ocean's 8'
Mike Coppola/Getty Images Entertainment/Getty Images
If you're not a superhero movie fan, summer blockbusters usually aren't too exciting. But this year, that's all about to change with Ocean's 8, the all-female heist thriller based on the original Ocean's Eleven. The new movie will serve as a spin-off of the original Ocean's trilogy, but this time around, an entirely new cast of (female) characters will take on a major jewelry heist. As the June 8 premiere date approaches, I can't help but wonder: Is George Clooney in Ocean's 8? Fans are desperate to know if Danny Ocean will make a cameo in the new film, because the only thing that could make the female-centric heist movie better is an appearance by George Clooney.
Unfortunately, fans hoping for a Clooney cameo in Ocean's 8 will likely be disappointed. In the first teaser released in December 2017, Sandra Bullock's character Debbie Ocean (more on that in a sec) can be seen kneeling in front of a cemetery plaque that reads "Danny Ocean 1961 - 2018." Clearly, Danny has passed away recently, but Debbie doesn't seem too torn up about it — she's drinking a martini and has a mysterious look on her face. The Ocean's trilogy is no Marvel series, so it's likely that Clooney's character won't be returning from the dead to appear in Ocean's 8. But that being said, it's also possible that the movie will feature a flashback sequence of Debbie and Danny, in which case Clooney could make a surprise appearance. If there's anything I learned from Ocean's Eleven, it's to expect the unexpected, right?
Even though Clooney probably won't be in Ocean's 8, his character's presence will have a big impact on the new movie. Debbie Ocean is Danny's estranged sister, and she shares her brother's mischievous sensibilities. Like Danny, Debbie has been in prison, and it's there that she gets the idea to rob the Met Gala. Bullock told Entertainment Weekly that being an Ocean is incredibly important to her character's sense of self:
Yes, I am Danny Ocean's sister. I've been incarcerated for about five years and you find out why during the course of the film. I mean, that's sort of a tiny subplot. But that's, you know, but I'm definitely his sister and we definitely come from the same family and we're both very good at what we do in our own special way. So you can only imagine that once I get out, that's when the heist ensues.
Whether or not Clooney appears in the new movie, you can bet that he'll be referenced at least a few times over the course of Ocean's 8. Maybe we should turn this into a drinking game?
The Clooney cameo is still TBD, but don't despair: There will be more than a few appearances from the other Ocean's trilogy cast members. Matt Damon and Carl Reiner are confirmed to return as Linus Caldwell and Saul Bloom, two of Danny Ocean's first recruits, and Damon hinted in February that they may not be the only ones reprising their original roles. He told the Toronto Sun in February:
It's just a very small cameo. I'm not really in the movie a lot ... I think there are a few of us who pop up really quickly.
"A few" of them?! Maybe Brad Pitt will "pop up" as Rusty Ryan, Danny Ocean's second-in-command who ate his way through Ocean's Eleven. Or maybe Julia Roberts will reprise her role as Beatrice Ocean, Debbie's sister-in-law. If Damon is right about this, the possibilities are truly endless.
Honestly, it's kind of hard to imagine a Met Gala without George Clooney (his wife Amal co-hosted this year's event with Rihanna and Donatella Versace) but I guess I'll have to get used to it before Ocean's 8 hits theaters on June 8.