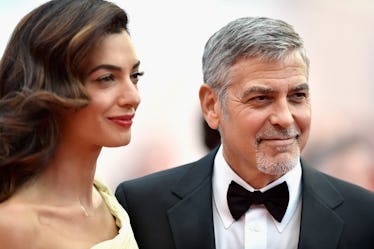 George Clooney Did The Sweetest Thing For Amal Clooney On The Met Gala Red Carpet
Pascal Le Segretain/Getty Images Entertainment/Getty Images
Fashion's biggest night has finally arrived as the Met Gala red carpet is officially underway. The celebs and designers are seriously packing heat with their looks tonight — but there are a handful of stars that all eyes will be looking out for. Two such individuals are George Clooney and his wife Amal, and both definitely served us every ounce of glamor that you'd expect from these two. These photos of George and Amal Clooney at the 2018 Met Gala are proof that they truly are the power couple of the century.
The Met Gala is the ultimate red carpet when it comes to fashion. This is one of the only moments each year where celebs and designers can truly go crazy and don their most inspired and avant-garde ensembles, which is exactly what Amal Clooney did tonight. George strutted down the carpet with Amal by his side looking as sharp as ever in a tuxedo fitted to perfection.
But the real star of the night was Amal, of course, who wore an incredible Richard Quinn creation comprised of a gold corset and black pants, with a long billowing floral train cascading behind her. And George was every bit the sweet supportive husband by letting Amal take center stage. The pictures from the red carpet pretty much speak for themselves — the Clooneys are serious couple goals.
On November 8, 2017, the Met museum announced that this year's Gala theme is titled "Heavenly Bodies: Fashion and the Catholic Imagination." The Gala also marks the opening of a special exhibit within the museum by the same name, which is meant to "examine fashion's ongoing engagement with the devotional practices and traditions of Catholicism."
Knowing what the theme of the night is, I knew that there were going to be some major fashion moments happening on those iconic Met museum steps tonight. And the Clooneys definitely did not disappoint. Amal's look tonight is definitely going on the top of my list as one of the night's best.
George and Amal have been expected to serve the world a serious fashion moment. Not just because they're both amazing individuals on their own and because they just look so incredibly good together, but because Amal has a very special role in the lavish affair. Amal is actually an official co-host alongside a very impressive group of women. Vogue magazine's editor-in-chief and Met Gala chair, Anna Wintour, selects a group of individuals to co-host the party with her, and this year she selected Amal, unofficial Met Gala queen Rihanna, and designer Donatella Versace.
The timing of Amal's appearance as an official Met Gala co-host is absolutely perfect, because she's also the cover girl of Vogue's May edition of the magazine. If you're wondering whether she's just as in love with her hubby as when they first met, Wintour can confirm that this is true. "I first met her while she was in the first flush of her relationship with George," Wintour said in her May editor's letter, "not long after they'd met, at a lunch at his home in Lake Como, and they remain as smitten with each other now as they were then." And that love that they share definitely showed at the Gala.
This isn't the first Met Gala rodeo for the Clooneys. Amal and George actually showed up on the Met Gala red carpet back in 2015. Amal wore a stunning custom Maison Margiela Artisanal gown by John Galliano that turned a lot of heads. George complemented her look with a vintage-style suit — these two were unstoppable on the red carpet that night.
But I think that tonight's look definitely topped the Clooneys' 2015 Met Gala appearance. This couple is like a fine wine — they just keep getting better and better with time.