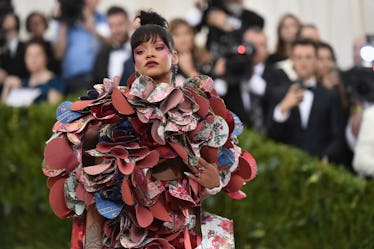 Here's How To Watch The 2018 Met Gala, So You Don't Miss Any Of The Wild Outfits
Mike Coppola/Getty Images Entertainment/Getty Images
May is just around the corner, and you know what that means: It's time for the annual Met Gala. Every year, New York's Metropolitan Museum of Art throws a massive celebration to raise money for their Costume Institute, and A-list celebs flock to the event in the wildest outfits imaginable. The event is invite-only, so if you're part of the 99.99 percent of people who aren't lucky enough to get a hand-written invite from Vogue editor-in-chief Anna Wintour, you may be wondering how to watch the 2018 Met Gala. The Met Gala is a star-studded night of extravagant fashion, hair, and jewelry, so if you like any of those things (which we all do), you won't want to miss a single second of the action.
The Met Gala is traditionally closed to the public — Wintour doesn't mess around with that invite-only policy — but fans interested in seeing the stars' looks are in luck. Folks can tune to Vogue for live updates and red carpet coverage the entire night. E! will also be broadcasting live from 30 Rockefeller Plaza and will have correspondent Zuri Hall on the red carpet. Picture Oscars coverage, fashion week reporting, and the world's most colorful circus all rolled into one and you've pretty much got the Met Gala red carpet. Here's everything you need to know about how to watch the beautiful, extravagant spectacle that is the 2018 Met Gala.
When is the 2018 Met Gala?
The 2018 Met Gala will take place on Monday, May 7. The event has a strict no video or photo policy, so there's no way to watch the Gala itself (unless something leaks online), but checking out everyone's outfits on the red carpet is the best part anyways, so who really cares?
What's this year's theme?
This year's Met Gala theme is "Heavenly Bodies: Fashion and the Catholic Imagination," which will highlight the connection between fashion and the museum's many religious artistic works. The exhibit will feature designs by Coco Chanel, John Galliano, Cristóbal Balenciaga, and more prominent designers who have allowed religion to influence their clothing. In addition, there will also be over 40 pieces of papal vestments on loan from the Vatican on display, because nothing says "Fashion and the Catholic Imagination" like an ornate papal gown.
Who's hosting the 2018 Met Gala?
As in previous years, the 2018 hosts are incredibly impressive. Rihanna, Amal Clooney, and Donatella Versace will host the Gala alongside Wintour, and I'm confident that if anyone will slay as hosts, it's these three badass ladies. The three hosts are anything but newbies to the Met Gala stage: According to Vanity Fair, this will be Versace's 16th Met Gala, Rihanna's seventh, and Clooney's second. In 2015, Rihanna made waves when she performed "B*tch Better Have My Money" on top of the table where Beyoncé, Alicia Keys, and Jessica Chastain were sitting, so fingers crossed that we get a similar amazing moment this year.
Who's attending the Met Gala?
Unfortunately, we won't know the full list of who's attending the 2018 Met Gala until they show up on the red carpet, but expect to see Hollywood's A-listers all dolled up for "fashion's biggest night out." In past years, the guest list has included stars like Brie Larson, Stephen Colbert, Selena Gomez, Blake Lively and Ryan Reynolds, Janelle Monáe, and Chrissy Teigen. Forbes reported that 550 people attended the 2017 Gala and paid the hefty ticket price of $30,000 each, so it's safe to say that not everyone can afford to make the trip to New York.
Let the countdown to the 2018 Met Gala begin!