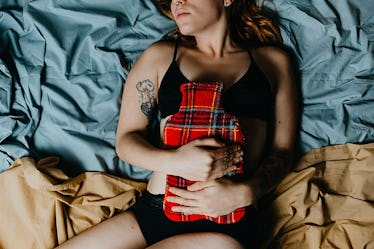 Drinking Apple Cider Vinegar During Your Period May Help With These 5 PMS Symptoms
You know how bad PMS can get — body aches, insatiable cravings, bad moods, and, the bane of my own personal existence, cramps that feel like heart attacks of the uterus. Personally, I'm willing to try just about any hack or tip to relieve that kind of pain, so I'm glad to hear that the wonder concoction that is apple cider vinegar also helps big-time with PMS symptoms. But is apple cider vinegar good for period cramps, the worst PMS symptom of all (if you ask me, at least)?
Apparently, it is worth it to stomach a little bit of the vinegar during your time of the month. Keep in mind, of course, some of these DIY remedies aren't always backed by tons of research. Still, I'm a personal believer in anecdotal testimonies and experimenting to see what works for you and what doesn't. Every body is different, and if you aren't big on popping ibuprofen and the like, at-home tricks and remedies can be especially great alternatives for easing your aches and pains. We all need our own little bag of personal tricks to help manage the symptoms of the monthly visitor, amirite?
So, here are some surprising benefits of that good ol' fermented drink that might make your visit from Aunt Flo a little bit easier to handle the next time it strikes.