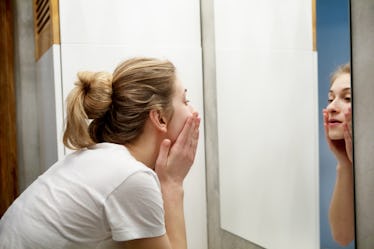 5 Reasons To Wash Your Face With Apple Cider Vinegar Instead Of Your Usual, Boring Soap
Just so you know, health and wellness influencers clogging your Instagram feed with apple cider vinegar shots, hot toddies, and salad dressings aren't the only ones taking advantage of ACV's health benefits. The fermented juice is awesome for your digestive system and the common cold, but did you know apple cider vinegar for skin is also a thing? For the record, this isn't necessarily "news," so it's high time I catch you up on the trend. Beauty experts have been shipping ACV and face wash regimens for years, because if you thought this liquid gold was multipurpose when you drink it, just wait until you experience all it can do topically.
Is it just me, or do natural home remedies feel, ironically, super new-agey? While our grandmothers can probably rattle off home remedies for everything from sickness to stain removal and hygiene off the top of their heads, somewhere between their teenage years and ours, beauty took a turn for highly processed products. Granted, while the industry has definitely made a few key strides moving toward a more organic, less chemically enhanced market, we're seeing a heightened trend of holistic alternatives — one of them being apple cider vinegar face washes and masks.
Because store-bought soaps and face products are oftentimes pumped with chemicals no one can pronounce, in addition to strong fragrances and dyes, you have to be extremely careful not to put something irritating and potentially damaging on your face. Apple cider vinegar, on the other hand, is all-natural, 100 percent organic, and super cost-effective, which I think every beauty guru can appreciate.
Still on the fence? Set aside your beloved soap bar and foamy cleansers and give any of the following apple cider vinegar home remedies a shot. If it's not for you, you can return your ACV bottle back to the kitchen cabinet and continue on with your morning shots (shots, shots).