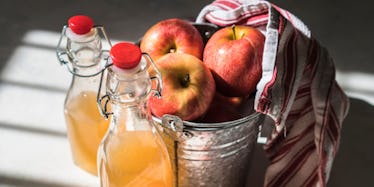 5 Reasons To Switch Out Your Face Wash For Apple Cider Vinegar
Suzanne Clements
Olive oil, milk and honey have been on our vanity tables for ages. After all, beautiful and powerful Cleopatra used to bathe in milk.
But, there is another household product you can add to your beauty routine.
Vinegar is not the first thing you think of when you say skincare, but this underrated household product actually has amazing benefits for your skin.
While everyone is rushing to vinegar to lose weight, you can also use it to make your skin look better.
Apple cider vinegar is a strong anti-fungal, antibacterial and anti-inflammatory agent, which can help exfoliate your skin and balance the pH.
Among other things, vinegar can cure acne and make your skin look younger.
And these are only two of the reasons you have to include vinegar in your skincare routine.
What is apple cider vinegar?
Apple cider vinegar is made from apples, which are fermented.
This process preserves its therapeutic properties, so apple cider vinegar is a source of potassium, pectin, malic acid, acetic acid and Vitamins A, B1, B2, B6, C and E.
This richness means apple cider vinegar has multiple benefits for your skin, making it probably the most unexpected ingredient in beauty recipes.
1. No more acne
We all know the painful fact: Acne doesn't disappear with age.
Even if you're well into your 20s you probably have acne, pimples and blemishes. Luckily, there is apple cider vinegar to help you out.
Because it contains malic acid, apple vinegar is a strong anti-fungal and antibacterial agent, which is exactly what you need to fight acne.
Wash your face with a 50 percent apple cider vinegar and 50 percent water solution daily, and you will notice an improvement on your skin, as your acne will disappear.
However, you need to make sure you are not overusing the solution, as it can make your skin too dry. If this happens, start using the vinegar solution once every two to three days or once a week.
2. Fewer age spots
Apple cider vinegar contains alpha hydroxy acids, which can help your skin get rid of dead cells.
If you wash your face with diluted apple vinegar daily for a long period of time, you will notice how your age spots start fading out.
You can increase its action by putting some apple cider vinegar on a cotton ball and tapping the spots.
Rinse your face after 30 minutes and repeat the treatment daily for about six weeks. Your age spots will fade out.
3. No more wrinkles
Because apple cider vinegar contains Vitamin C, along with other vitamins, it can help reduce wrinkles.
This is because Vitamin C stimulates the production of collagen, which keeps your skin toned and wrinkle-free.
4. A remedy against oily skin
Apple cider vinegar has a similar pH to the skin's pH, so washing your face with a solution of diluted vinegar can balance the production of sebum.
The acids in apple vinegar will also stimulate the blood flow and minimize the pores, leaving your skin toned and soft.
5. Skin soother
Apple cider vinegar can soothe irritated skin, so you can use it after sunburns or shaving.
For sunburn relief, mix ½ cup of apple cider vinegar with four cups of water, and apply it on the irritation. This treatment will prevent blisters.
If you have razor bumps, just dip a cotton ball in pure apple cider vinegar and swipe the area. Besides soothing the irritation, apple cider vinegar will make ingrown hairs easier to remove.
You can also use apple cider vinegar to soothe irritation from a bug bite. Studies even show apple cider vinegar can help improve the appearance of varicose veins.