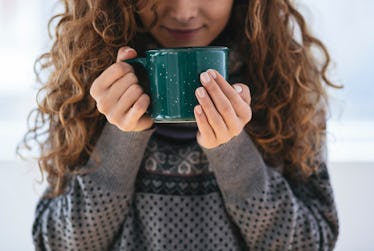 7 Different Ways To Drink Apple Cider Vinegar To Soothe A Bloated Belly
I don't care how easy all of these health and wellness influencers make it look to take shots on shots of apple cider vinegar, because the truth is, the stuff is bitter and, like a tough pill, can be hard to swallow. The fermented tonic is certainly not one you'd casually sip on to quench your thirst, but it's worth throwing back to reap its many health benefits, specifically on days when you feel a little, to put it lightly, puffy. Using apple cider vinegar for bloating is a kind of folk remedy often suggested as a holistic alternative, and with its sparkling reputation as a cure-all, I'd say it's worth the shot.
Belly bloat is the absolute worst and, unfortunately, the human stomach is pretty sensitive and expands in response to a few things. For example, say you're in between hard deadlines, so you have no other option but to scarf lunch down at your desk. Wolfing down meals makes a lot of room for gas-producing air to sneak into your system and expand your gut.
Other seemingly minute details, such as eating raw vegetables, processed foods with artificial sweeteners, drinking through straws, and even chewing gum are all things we do on a daily basis, among countless others, that contribute to bloating.
Drinking ACV, however, can definitely help soothe your sensitive stomach. Here are a few clever ways to drink it that'll mask the bitter taste, but still beat the bloat.