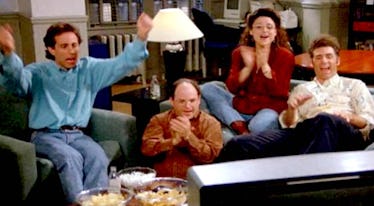 Jerry Seinfeld Is Giving 'Seinfeld' Fans Hope For A Reboot Series & We're Ready For More
Columbia TriStar
At this point, it feels like pretty much every sitcom from the '90s is getting rebooted. Full House got even fuller, Roseanne is bringing Dan back from the dead, Will & Grace are sassier than ever, and Murphy Brown will be chasing down stories in the 21st century news cycle. But what about what is probably the most iconic '90s sitcom of all? Amidst all this reboot mania, Seinfeld fans are still waiting for one major announcement: Is a Seinfeld reboot going to happen or not? Jerry Seinfeld had been shutting down the idea for a while, but now he's offering fans hope that we will see Jerry, George, Elaine, and Kramer together again.
Jerry Seinfeld came on The Ellen DeGeneres Show on Tuesday morning to talk about his talk show Comedians in Cars Getting Coffee, which is making the jump from Crackle to Netflix this year, and while he was there he also teased that a Seinfeld revival series is still a possibility. Props to Ellen for being on the reboot beat this week — she got John Krasinski to talk about The Office coming back on Monday, and now she has Jerry Seinfeld admitting that he's staying open to Seinfeld returning.
At the end of their talk, Ellen DeGeneres oh-so-slyly slipped in a question about whether Seinfeld might make a comeback, and Jerry's response had the crowd erupting in applause: "It's possible." Unfortunately, those two words were all we got on the matter, but it's still a major upgrade from how Seinfeld has responded to similar reboot questions in the past. Just last September, Seinfeld told Entertainment Tonight that he was not interested in bringing Seinfeld back, saying that he didn't see the point in "tampering with something that went pretty well." It sounds like the comedian may be starting to change his tune on the matter!
Check out Jerry Seinfeld's interview on Ellen for yourself below:
What could have caused this possible change in opinion about a revival in Jerry Seinfeld? Well, there are a couple factors that could be making a Seinfeld reboot seem more appealing to the show's titular star. All nine seasons of Seinfeld became available to stream on Hulu recently, which is has become a huge new way to garner renewed millennial support for canceled series (just ask Gilmore Girls and Arrested Development). Plus, Seinfeld's original network NBC has been one of the most reboot-happy stations, with its entertainment chairman even admitting recently that he offers open invitations to showrunners of canceled series to do revivals on the network.
Jerry Seinfeld may have also been encouraged by the successful return of Seinfeld co-creator Larry David's other series Curb Your Enthusiasm last year. A new ninth season of Curb aired at the end of 2017, six years after the HBO comedy's previous season, and it has been picked up for a tenth season to air later this year. Clearly, David is open to bringing back his former series, so maybe he opened Seinfeld's mind to the possibility as well. After all, the Seinfeld cast did jokingly put on a reunion show in 2011 in a Season 7 episode of Curb Your Enthusiasm.
The only schedule that might make a Seinfeld revival difficult is that of Julia Louis-Dreyfus, who is currently not only helming her Emmy-magnet HBO series Veep but also undergoing treatment for breast cancer. We will just have to wait and see if any more Seinfeld news starts coming out in the rest of 2018. But for now, at least fans have some words of hope from Jerry Seinfeld that a comeback is not out of the cards.