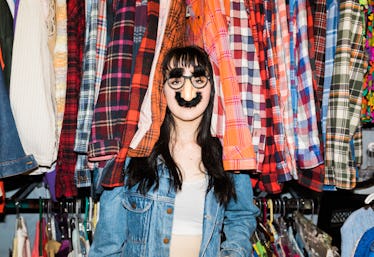 9 People Revealed Whether A Messy Room Is A Turn-Off & Honestly, It's All Over The Place
For those us of who are decidedly more Phoebe than Monica, "Tidying Up" isn't always a priority. Forgive me, Marie Kondo, but my Life-Changing Magic came from learning how to reload my public transit card online. Of course, everyone is entitled to keep their personal space in whatever way makes them feel comfortable, but when it comes to dating, is a messy room a turn-off? Is Marie Kondo a modern-day cupid, shooting gift cards to The Container Store from her golden bow and arrow?
If you can't stand the sight of dirty dishes, you may already know your comfort level (or lack thereof) with mess. And although you may be totally crushing on a new boo, worn clothes or wet towels on the floor may totally kill the mood when you're back at their place. Of course, for a lot of people (me included) a messy room is no big deal at all. While you can't see my rug (because of clothes and seltzer cans), I promise it power clashes with my comforter and curtains, just the way I like it.
I asked nine people if messy rooms can kill the mood, and what they say is well, really all over the place.